I was born in Alaska, where my parents lived for a few years.  In addition to amusing anecdotes, amazing photos, and the very cute baby-size mukluks that currently reside on my bedroom bookcase, my early childhood in Alaska also yielded a fantastic recipe for beer battered halibut.
My lower-48 parents first encountered beer battered halibut at a restaurant, then a few weeks later my mother noticed a recipe in the Anchorage Daily News, which she tried and perfected.  It's still one of my very favorite things to eat.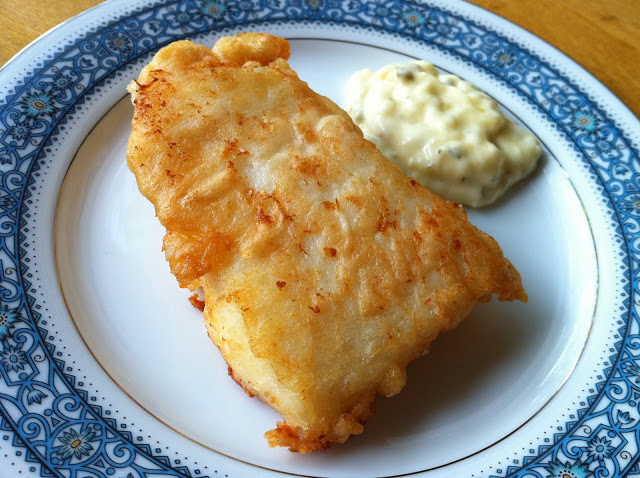 Finding very fresh halibut is the first step, although you could substitute other firm-fleshed white fish (I once made beer battered walleye when D brought some back from a fishing trip).  When it's in stock, Costco's halibut is excellent and reasonably priced.  It doesn't hurt that they sell it in huge packages, either – I figure, if you're going to the trouble of frying fish, you might as well make a big batch.  After all, beer battered halibut makes wonderful sandwiches.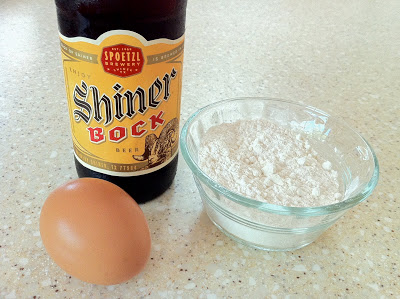 Making the batter is quite easy, and the only real decision to make is what beer to use.  I usually grab whatever is handy – probably a lager or even a light beer.  The original recipe called for one beaten egg white, but my mother always uses two, resulting in an especially light and crisp coating.
I've always found the actual cooking a little intimidating, since it involves sizzling hot oil and the ability to figure out when the halibut is cooked through, but it's really not so bad.
A few tips:  The fish should be cut into similarly sized pieces to ensure even cooking, and patted dry before battering.  Use a large, non-stick skillet and not too much oil, maybe half an inch or so – you don't want to deep fry.  Use a thin metal spatula to flip the fish, with chopsticks or a fork to help lower each piece gently back into the oil after turning it over.
In terms of timing, for a piece of fish about half an inch thick, start with about 8 minutes per side; if it's closer to an inch, 10 or 11 minutes is probably about right.  Feel free to peek inside one piece to figure out whether the fish is cooked through (I generally end up doing this).
One important note – if you live in an apartment, be sure you have plenty of ventilation before you start.  Frying fish has a very distinct odor that really permeates a small space.
***
Beer battered halibut
3 lbs halibut filets (or substitute similar firm-fleshed fish)
2 egg whites
1 cup flour
1/2 tsp salt
2 tsp canola oil, plus additional for frying
1 cup beer
Cut halibut into pieces, about 3 inches square.  Pieces should be no more than an inch thick; slice in half horizontally if necessary.  Pat dry.
In a small bowl, beat egg whites until stiff.  Set aside.
In medium mixing bowl, combine flour, salt, and oil.  Pour in beer and whisk until just smooth.
Fold in egg whites.
Heat about 1/4 inch of canola oil in a large sauté pan, then reduce heat to medium-low. Dip each piece of fish into the batter and fry for about 8-12 minutes per side, depending on size and thickness.  As each piece comes out of the oil, drain on paper towels.
Serve immediately, with tartar sauce (an easy recipe is equal parts canola mayo and sweet pickle relish).
This also makes delicious sandwiches the next day, spread with more tartar sauce and topped with a few leaves of crisp lettuce.