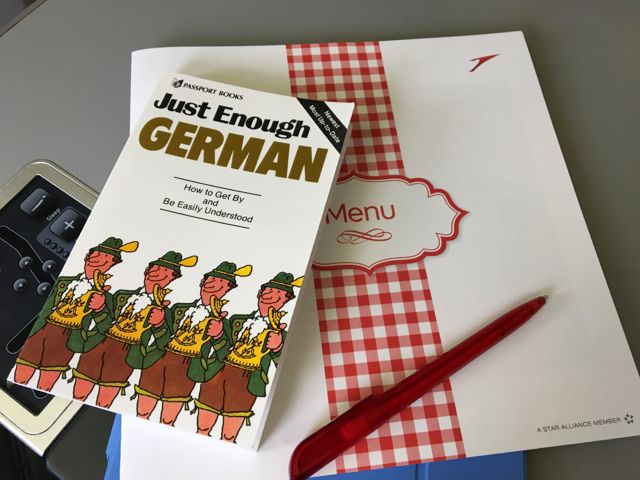 There are many reasons I'm looking forward visiting Vienna again: watching D eat his body weight in schnitzel, spending more time exploring the Kunsthistoriches, having another crack at the Silvio Nickol wine list.  And… another trip on Austrian Airlines.
It's probably unfair to compare business class on Austrian, an airline that flies only a few long-haul routes between the US and Vienna, to the big players.  United and American don't fare well in comparison!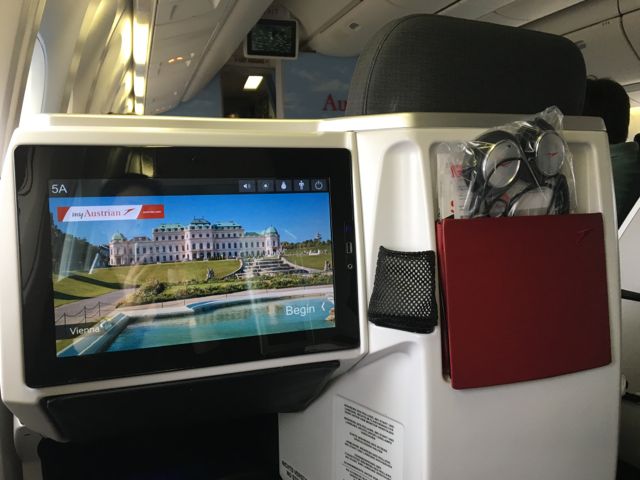 What do I like about Austrian?
There's a chef on board – complete with white toque
Private, comfortable seats with a cozy checkered duvet
Big and bright monitors
Friendly, efficient service
Very good champagne (Duval Leroy)
The chef comes around before takoff to answer questions and take orders (on our outbound flight she recommended the prawn curry, which turned out to be very good!) and while I don't think that an airborne chef can do much more than prep and plate, it is a good signifier that Austrian takes pride in its food.  Our meals began with a selection of starters; you can choose as many of the different items as you'd like, and they're all neatly plated from a cart.  I especially liked the white asparagus soup.  (White asparagus was in season during our trip and it's certainly popular in Austria!).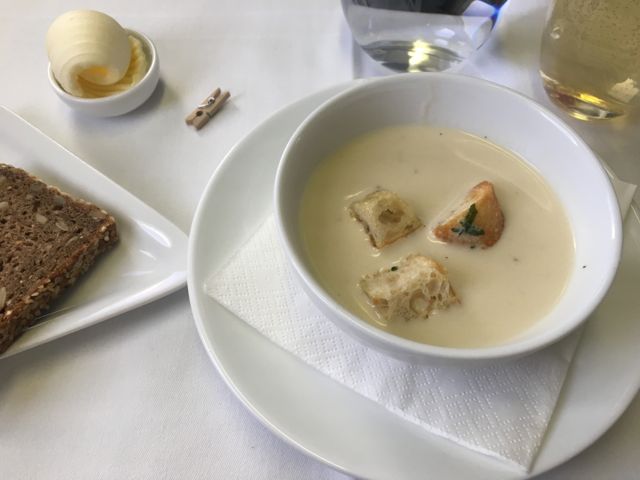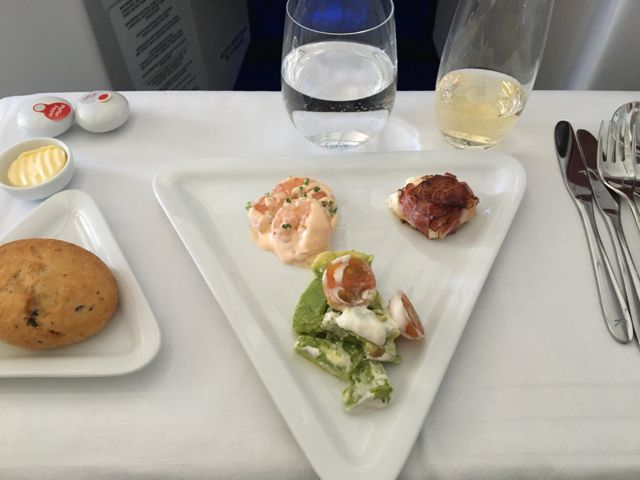 Cheese and desserts are also served from a cart and you can have whatever you like.  The only negative of my meal?  D got the last piece of apple strudel.  Ah well.  I drank a little more champagne instead.
I whiled away many hours watching the in flight entertainment – while there's not too much English-language TV (unsurprising), there are plenty of movies, both new release Hollywood stuff as well as some interesting international and artsy selections.  I watched Rogue One and then Dancer, a documentary about Ukranian ballet dancer Sergei Polunin.  He's amazingly talented but has also struggled a lot – it's a really engrossing film that includes plenty of dance footage to complement the story of his life and career.
I liked the cheery color scheme of the cabin – white, gray, and pale blue with red accents – and the front bulkhead is soothingly pale blue with fluffy white clouds.  The only thing I would change?  The all-red flight attendant uniforms (complete with bright red tights), which look a bit dated – though certainly distinctive in the airport!
Austrian is definitely in the running for my favorite airline, maybe even pulling ahead of ANA.  To quote noted Austrian Arnold Schwarzenegger: I'll be back.