It's been a while since we'd been to the Kitchen Table, so D and I headed over recently for our second visit. The menu has changed quite substantially, and there's really no better way to learn about it than to submit to the full experience.


By the end of the evening, we were all caught up – thanks to what we'll call intensive tutoring, like the "Study of Scotch". It comes to the table in a wooden case, with miniature cocktails (soda, sour, and manhattan) nestled fetchingly in greenery and berries. This is far more fun than any of the studying I used to do.


Study of scotch


Our experience started off with "fig two ways": a star anise-spiked fig cocktail that's the autumnal version of the original sparkling sorrel cocktail from the spring, and a single fig bite topped with an absurdly delicate miniature chip of prosciutto.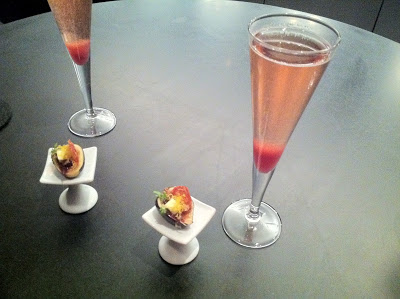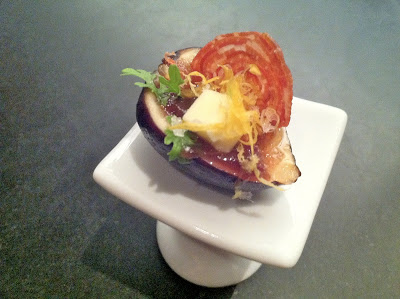 Fig
I particularly loved trying the many new bites – each one a tiny, precise work of art. It still amazes me that these are produced in one corner of the kitchen area, with even less counter space than I have in my little apartment kitchen.


It's hard to pick a favorite, since they're so different – the crunchy-creamy, sweet-savory squash bites are elegantly subtle, while the bay scallops are piercingly tart and flavorful. The smoked salmon, atop a cauliflower mousse, packed all the classic garnishes into a one inch diameter along with a purply-blue flower that contrasts beautifully with the salmon. There's an artist's eye at work here.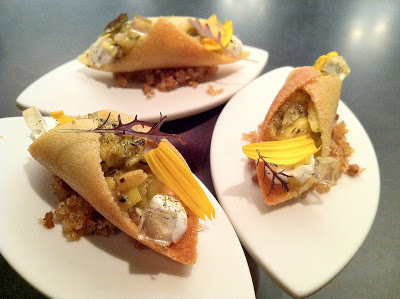 Squash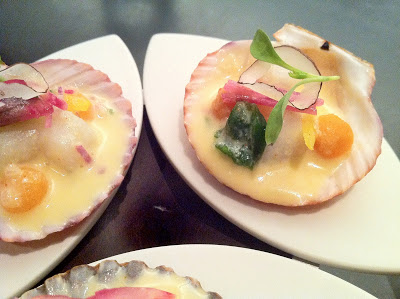 Bay scallop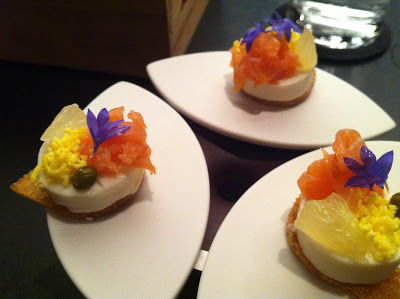 Salmon
Many of the classic Aviary cocktails have been re-imagined in the past weeks and months. Instead of the Rooibos, there's now the Oolong – same tea-infusion and vacuum pot setup, but with pear brandy and brown sugar for a very different flavor. Instead of the Bitter, an Amaro cocktail (made with rootbeer stock) is now poured into the wood smoke-filled glass.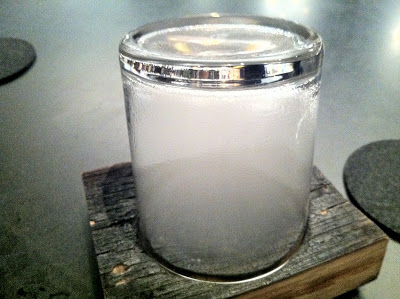 Glass for the Amaro
And of course, there are some completely new drinks, like the Vieux Carr
é
served in an icy, tall silver flask decorated with a knot of lemon rind. Despite its rather intimidating (to me, anyway) appearance, the flavor is enticing – a combination of vermouth, cognac, rye, and benedictine, a monk-produced herbal liqueur.
We also had the Peach (perfectly paired with a peach bite), with whiskey and maple and Angostura bitters complementing the peach juice, for a very sophisticated take on a fruity cocktail. It's a crisp and refreshing palate cleanser before "dessert".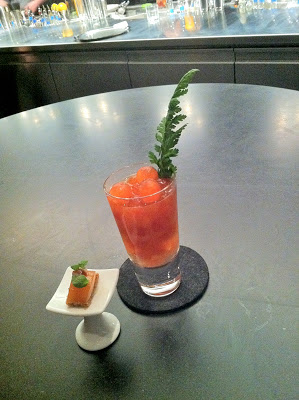 Peach
The dessert cocktails at the Aviary are invariably fantastic and indulgent, especially at the Kitchen Table. We had a surprisingly light White Russian (the creaminess comes from a milk ice cube) and a Cold Chocolate made with bourbon, and the classic, sparkling clear Cream Soda. Most memorable, and new to me – the Horchata, presented in a styrofoam cup, sweet with cinnamon rice milk and heady with rum and tequila. The lid of each cup is carefully marked "other", another example of the Aviary's impeccable attention to detail.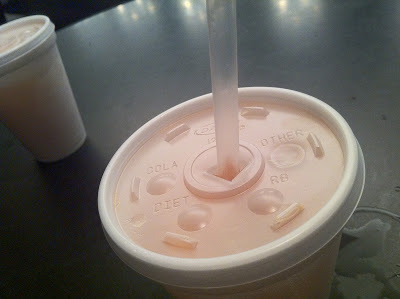 Horchata
To finish, "mignardises" – tiny cups of "hot buttered rum" with the flavors of popcorn and caramel, a few salty-sweet sips that warmed us and braced us to head out into the night (and promptly to bed!).