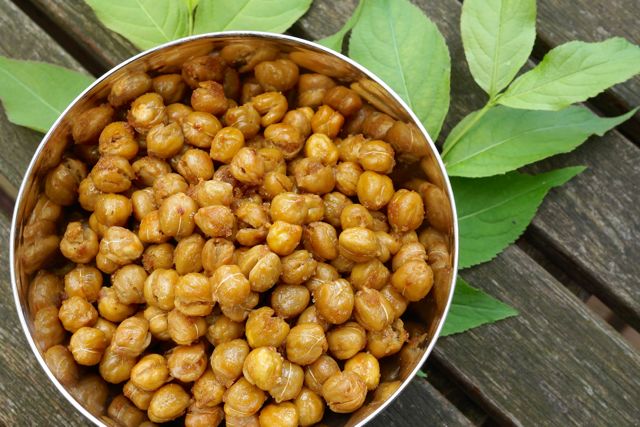 Given everything happening in the world these days, there are plenty of reasons for anxiety.  And I tend to worry a lot, which is definitely not productive!
This recipe is a good way to redirect that energy into something more positive – and pretty tasty.  It's kind of soothing to stand in front of a tray of chickpeas, removing the skins one by one.  They slip off easily.
Once cleaned, they go into the oven to dry roast.  In the meantime, mix the oil and sugar – I add a pinch of cayenne for a hint of heat, but you could experiment with different spices and seasonings.  Cinnamon would be good, I think, or maple syrup on the sweet side; cumin or curry for something more savory.
It doesn't take long until your chickpeas are ready for snacking!
***
Brown sugar cayenne roasted chickpeas
2 cans chickpeas/garbanzos
3 tbsp olive oil
2 tbsp brown sugar
1/4 tsp cayenne pepper (or to taste)
Pinch of salt
Preheat oven to 400º. Rinse chickpeas, then drain well and spread on paper towels or dish towel. Rub with another towel, removing loose skins. Leave to dry for about 10 minutes.
Transfer chickpeas to baking sheet lined with parchment paper and roast for 30 minutes, shaking pan occasionally. Check on them at 30 minutes and leave a bit longer if not sufficiently dry and crisp.
Meanwhile, mix other ingredients in a medium bowl until as smooth as possible. Add the hot chickpeas and toss well to coat, then return to the baking sheet and roast an additional 10 minutes.