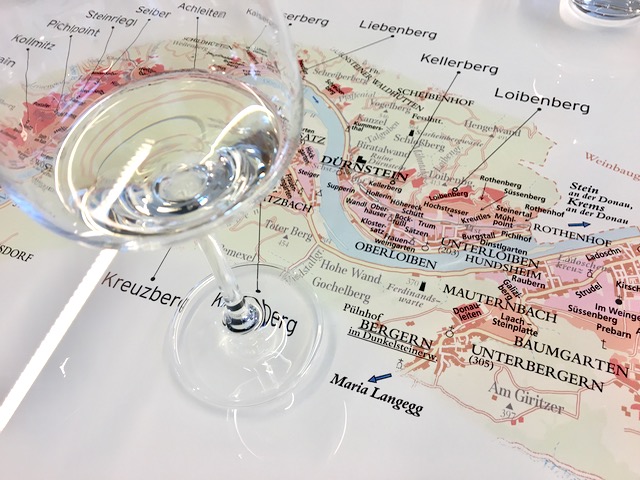 Our last day in Austria brought rain but also a new adventure – exploring the wineries of the Wachau Valley.  Austrian whites, especially Grüner Veltliner, have become increasingly popular in the US over the past decade or so; the reds (Zwiegelt and Bläufrankisch) are less common.
We were met at our hotel by our guide and driver, and set off to the west.  Our first stop was Domäne Wachau, a cooperative that works with vineyards all throughout the valley.  Given how many of the vineyards are small and family-owned, it provides economies of scale to share a winemaker, production, and marketing via the Domäne.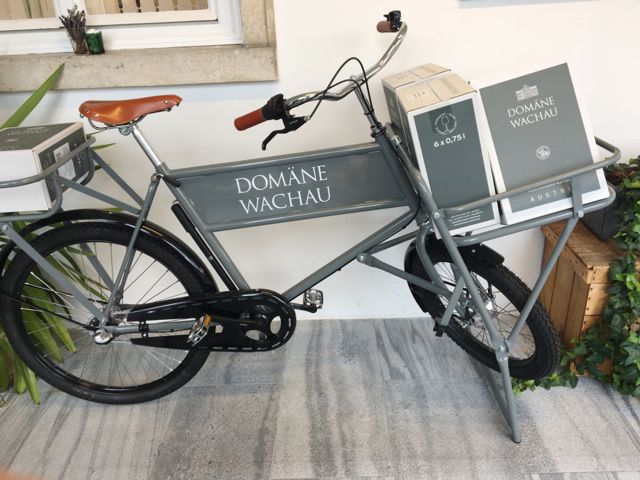 They also run a beautiful tasting room, where we were introduced to the three classifications of Austrian wines: Steinfeder, Federspiel, and Smaragd.  Steinfeder, named for a delicate wild grass, is the lightest (max 11.5% abv) and rarely exported.  Federspiel means "falconry", a once popular pastime in the Wachau; these are slightly heavier wines.  The ripest, heaviest whites are Smaragd, named after a bright green Austrian lizard.  (Who knew?)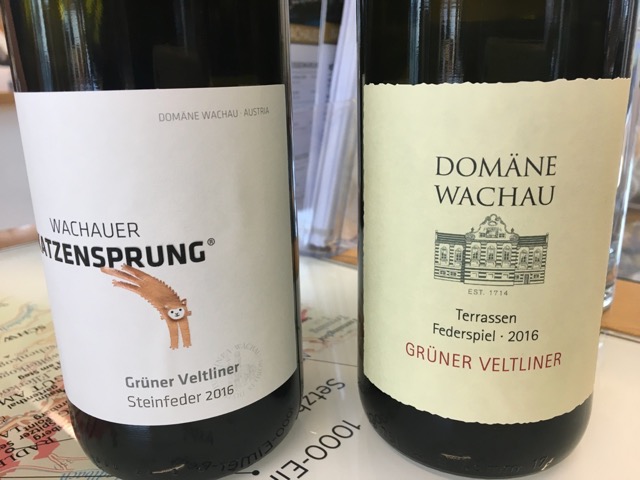 The Domäne Wachau tasting room is located in Dürnstein, where you can also still see the ruins of a castle where Richard the Lionhearted was imprisoned for a few months in 1192.
We drove on along the Danube to the town of Weißenkirchen, stopping for a pleasant lunch at a small guesthouse.  Afterwards, we embarked on a short walk past the church – the town's name translates to "white church" – to our next tasting spot.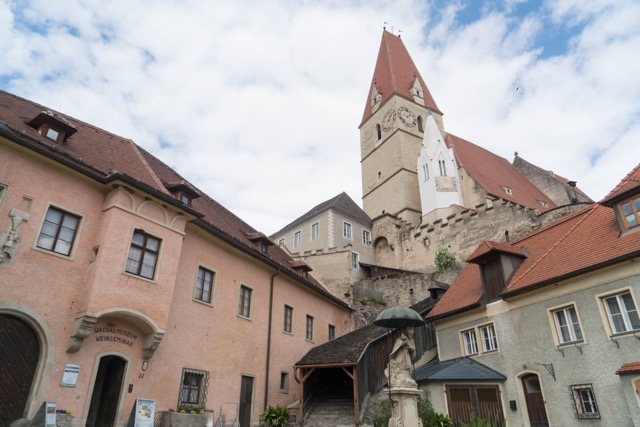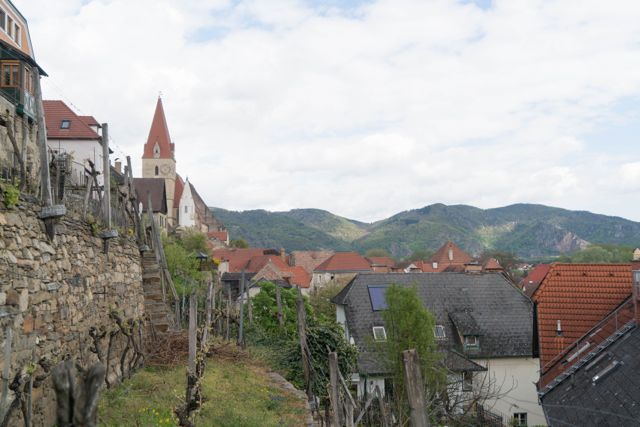 We climbed steep stairs to a tiny winery and heuriger (essentially a small tavern/tasting room) run by the Denk family, enjoying a break in the rain while we sampled some of their wines.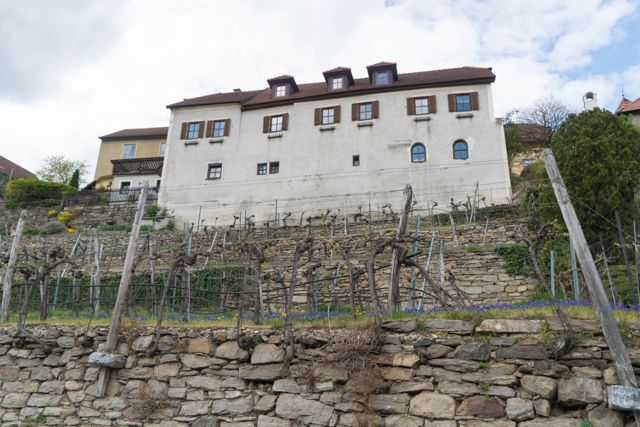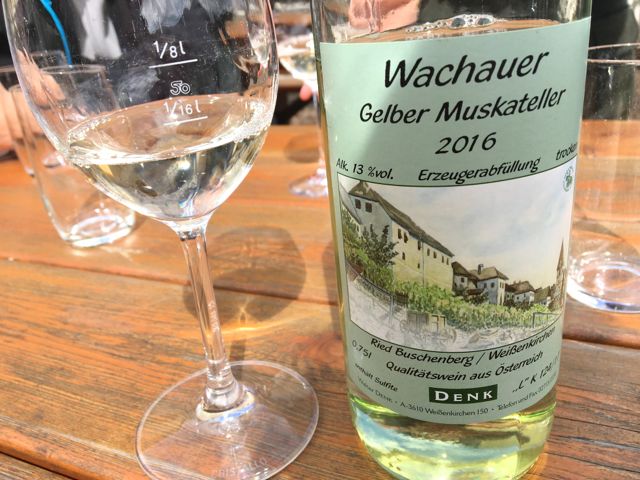 The view down over the valley was pretty nice, too!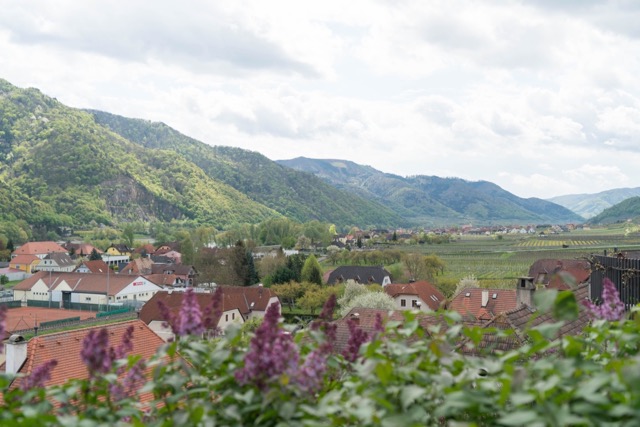 Continuing along the Danube, we next stopped in Spitz at Weingut Lagler, where our guide made sure we got to taste some reds – specifically a few different vintages of Zwiegelt, which I'd told him I particularly like.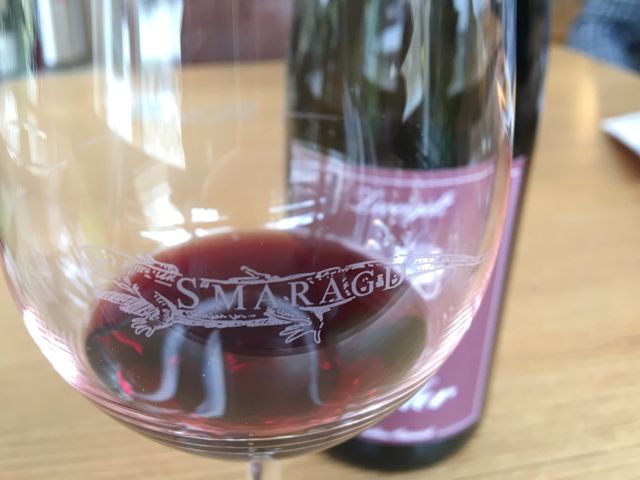 Other highlights of our trip to the Wachau were sampling b'soffene Marille (apricot halves soaked in apricot brandy, yum!) and seeing Melk Abbey.
By the mid-afternoon, we were a bit sleepy from all the wine and walking, and gratefully returned to our van for a cozy ride home.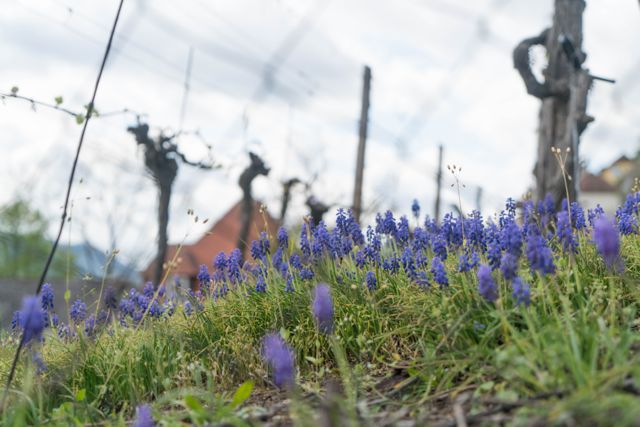 We booked our private tour through Discover Vienna and I highly recommend them.