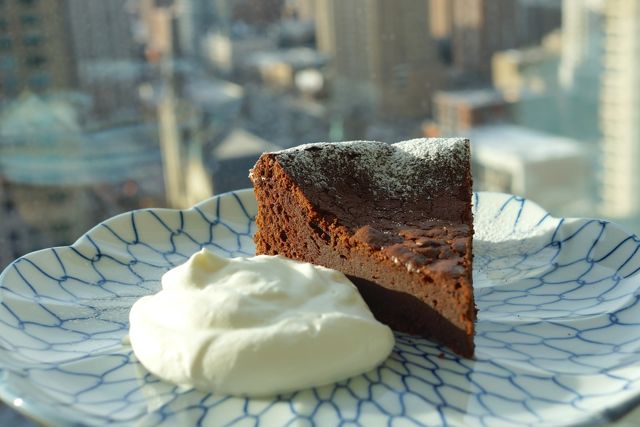 Much like Cookie Monster, I believe that baked goods should be devoured straight from the oven.  And that's especially true for chocolate!
This cake is a rare exception, however – it needs to sit for a bit, so that the airy center can fall and settle into a rich, dense texture.  And there's more than enough chocolate to satisfy me, even if I have to wait a while to dig in!
***
Fallen chocolate cake
9 oz chocolate (70% to 85%)
1 stick unsalted butter
6 eggs – 2 whole, 4 separated
1/4 cup plus 3 tbsp sugar
2 tbsp dark rum
1 tsp vanilla
1 tsp espresso powder
Pinch of salt
Preheat oven to 350º. Lightly butter the bottom of a 9 inch springform pan.
In a double boiler, melt the chocolate and butter, then set aside.
Combine 2 whole eggs plus 4 egg yolks in a large bowl, and beat lightly by hand with 1/4 cup sugar, rum, vanilla, espresso powder, and salt. Add the melted chocolate and mix until combined.
Whip 4 egg whites plus 3 tbsp sugar to soft peaks. Add a dollop of the meringue to the chocolate mixture and whisk in to lighten. Then fold in the remaining meringue.
Pour into prepared pan and bake about 35 minutes, until the cake has risen and developed cracks. Test with a toothpick to ensure the center is sufficiently baked.
Cool the cake on a wire rack until the middle falls. Run a knife around the edge of the pan before opening the springform.
Serve with whipped cream to offset the chocolate richness.