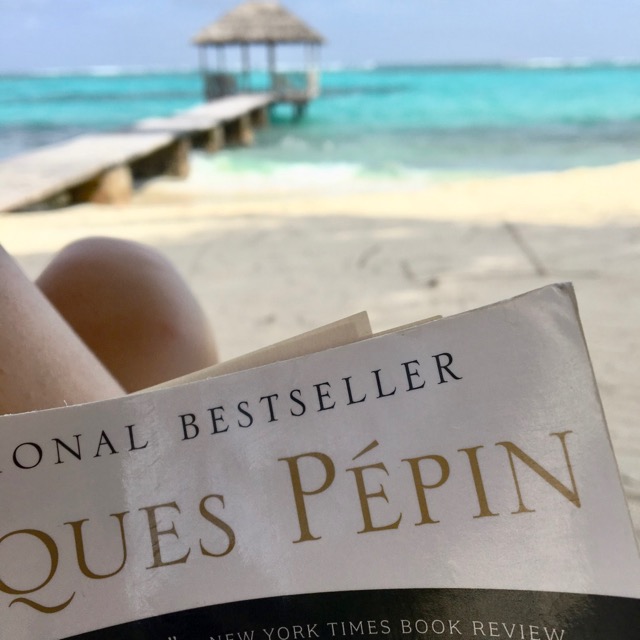 I love to read – something engrossing and well-written, and preferably on the lighter side for a little escapism.  And I reread my favorites, especially on a long flight or to relax on vacation.  Among the books I reach for most often are a few that never fail to make me hungry:
Mediterranean Summer – David Shalleck
This is a perfect beach read; it works up my appetite for lunch even when I haven't done anything more strenuous than holding up my Kindle all morning.  It's the memoir of an American who becomes the cook on a luxury sailing yacht in Italy, filled with beautiful descriptions of life along the Riviera and and the Amalfi coast.  Even better are all the details of his provisioning, recipe planning, and cooking.  I can practically taste the food he describes.
"Dinner that night started with an Arborio rice salad made with a copious amount of tender peas, arugula, and extra virgin olive oil from Danilo's family…  The salad was placed in the center of the platter and surrounded with the scampi tails that were broiled and finished with a squeeze of lemon and a drizzle of the same oil.  For the entrée, I cut the small red mullet into precious filets, gently panfried them, and served them with a simple coulis of fresh tomato with a hint of hot pepper and basil.  I offered a side dish of steamed green beans tossed in olio-limone – oil and lemon – then finished the meal with a very rich panna cotta – cooked cream – made with marscapone cheese and served with apricots quickly roasted with a splash of champagne, sugar, and a few pieces of orange peel.  Amaretti cookies on the side were an appropriate accompaniment since their amaro – bitter – flavor is the result of flour made from the kernels in apricot pits."
Oh, and there are lots of recipes!
***
Animal, Vegetable, Miracle – Barbara Kingsolver
The concept is simple: One family, one year eating locally – or growing/raising their own food on their land in Appalachian Virginia.  The story is broken out month by month, interspersed with recipes (written by her daughter) and essays (by her husband).  It's fascinating, and funny, and somehow comfortingly back-to-basics.
"Kay called back with a report on our county's late May pantry.  There would be asparagus, of course, plus lots of baby lettuces and spinach by then.  Free-range eggs are available here year-round.  Our friend Kirsty had free-range chicken, and the Klings, just a few miles from us, had grass-fed lamb.  The Petersons had strawberries, Charlie had rhubarb, another family was making goat cheese. …  On Wednesday, we checked the bean sprouts Camille had started in two glass gallon jars.  Their progress was unimpressive; if they intended to fill out a hundred fat, translucent summer rolls in three days, they had some work to do… Suddenly inspired, we plugged in a heating pad and wrapped it around the jars.  Just an hour did the trick.  I'm sure we violated some principle of Deep Ecology, but with just a quick jolt from the electric grid our sprouts were on their way, splitting open their seeds and pushing fat green tails into the world."
There are a few preachier bits that I skip in my rereads.  But I'll never get tired of reading her hilarious accounts of young turkeys trying to figure out how to mate.
***
Farmer Boy – Laura Ingalls Wilder (and The Long Winter)
OK, so I don't really reread these much anymore, but for a long time, I read this entire series every Christmas.  The third book, Farmer Boy, stands out as it's about her husband's childhood rather than her own, and also because it's chock-full of descriptions everything he eats.  Conventional wisdom suggests that because Laura herself grew up on more of a subsistence diet, these passages are her reveries about the bounty of the farm.  She really captures a sense of mouthwatering anticipation:
"…at last Almanzo could open his eyes. He sat and silently looked at that table. He looked at the crisp, crackling little pig lying on the blue platter with an apple in its mouth. He looked at the fat roast goose, the drumsticks sticking up, and the edges of dressing curling out… He looked at the big bowl of cranberry jelly, and at the fluffy mountain of mashed potatoes with melted butter trickling down it. He looked at the heal of mashed turnips, and the golden baked squash, and the pale fried parsnips. He swallowed hard and tried not to look anymore. He couldn't help seeing the fried apples'n'onions, and the candied carrots. He couldn't help gazing at the triangles of pie, waiting by his plate; the spicy pumpkin pie, the melting cream pie, the rich, dark mince oozing from between the mince pie's flaky crusts."
As a contrast, there's The Long Winter, in which the Ingalls family almost starves.  Reading this, I can definitely understand why she detailed Amanzo's imagined feasts so lovingly!
"For breakfast there was brown bread. Ma toasted it crisp and hot in the oven and she let them dip it in their tea… Pa was hungry.  His eyes looked eagerly at the brown bread and the steaming potatoes when he came from struggling along the clothesline in the storm.  But the others were only tired, tired of the winds and the cold and the dark, tired of brown bread and potatoes, tired and listless and dull."
There's also a cookbook, if you want to try making your own corn dodgers!
***
Anything Considered – Peter Mayle
Peter Mayle is probably best-known for his Year In Provence books, but I also enjoy his fiction, even though it sticks to a pretty predictable formula: an Englishman (either a down-on-his-luck charmer or a burned-out executive) meets a fabulous woman and stumbles into adventures involving the good life.  In Anything Considered, the story hinges on truffles, and so it's only fitting that they star in an early scene:
"On each plate, incongruous against the plain elegance of the porcelain, was a foil-wrapped packet a little smaller than a tennis ball. 'The presentation is a little homespun,' said Poe, 'but it's practical. Inside the foil is a single truffle and a slice of foie gras. As the truffle is warmed, the foie gras melts into it.' … Bennett followed instructions and took in the complex, ripely aromatic puff of warm air that escaped from the open foil. The black, lumpy shape of the truffle glistened with melted fat, ugly, delicious, and outrageously expensive."
***
The Apprentice – Jacques Pépin (and My Life in France – Julia Child)
Jacques Pépin's voice comes through so clearly as he shares his path from apprentice, to chef for Charles de Gaulle, to America, and finally to the food personality he is today.  It's his story, but also the story of food in America from the 60s to the new millennium.
"By 11:00 am, the fire had burned down to white ashes between rocks so hot I couldn't get closer than four feet from the pit.  Craig decreed that the time had come to start cooking, and he threw a layer of seaweed about a foot deep on the hot stones.  The rockweed turned from dark brown to light green, emitting a geyser's worth of steam.  We placed bed sheets rinsed in seawater on top of the seaweed to prevent dinner from disappearing, and everyone present, including the kids, began tossing lobsters and bundles of food into the pit…  The meal baked for about two hours, while we enjoyed apéritifs and made sauces: plain rendered butter, herb butter, tartar sauce, and ravigote sauce, a spicy vinaigrette with mustard, capers, and herbs."
Along the same vein is the marvelous My Life in France, the memoir of Julia Child's adventures learning to cook and – more importantly – writing her masterly cookbook.  I always think of Julia and Jacques together, thanks to their amazing PBS cooking show, so I group their books next to each other on the shelf!