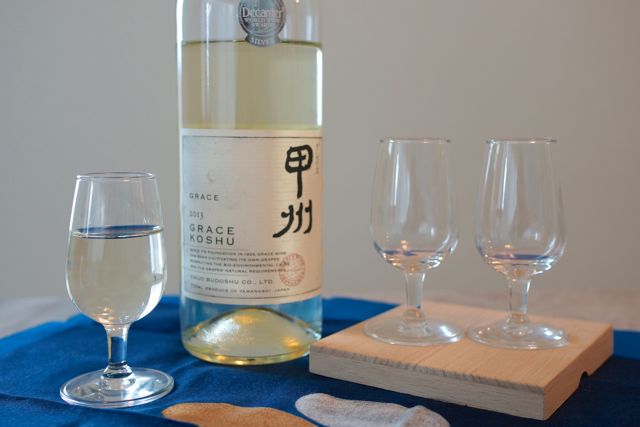 Japan is not the first, second – or even tenth – place that comes to mind when I think of wine.  Plum wine and sake yes, wine made from grapes… nope.
But recently I caught a documentary on NHK about Grace Winery, and it was fascinating to see how Japanese grapes (Koshu) are carefully cultivated to produce a wine that has won international competitions.  Traditionally, Koshu grapes are grown horizontally, but winemakers learned to grow them vertically (the same as you would typically see in a vineyard).  Unlike many other wine-producing regions, Japan is very rainy so winemakers at Grace actually cover the lower part of the vines with a sort of plastic tenting that helps direct the water away from the roots.
When I found a display of Grace wines at Mitsuwa, I had to try some.
The first thing I noticed was the color, so pale it was almost colorless.  The wine itself is extremely dry, with very little fruit and a slight salinity – perhaps fitting considering how important the sea is to Japan.  It would be a good pairing for seafood, though it won't replace my usual favorites.
It was a treat to try the wine that I had seen so carefully crafted!