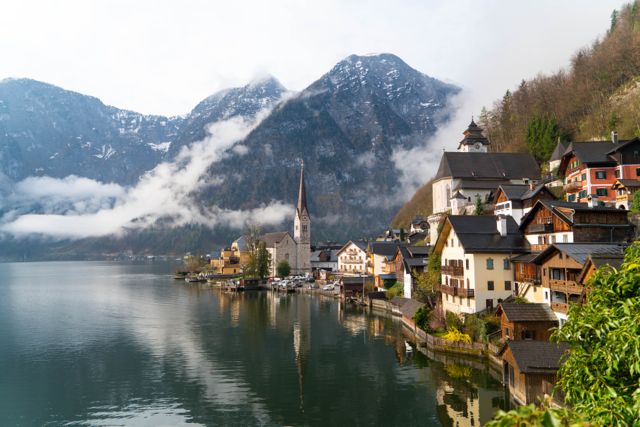 If it's true that a picture's worth a thousand words, most visitors return from Hallstatt with the equivalent of about a million words on their cameras.
It's one of the most picturesque – and most photographed – villages in the world.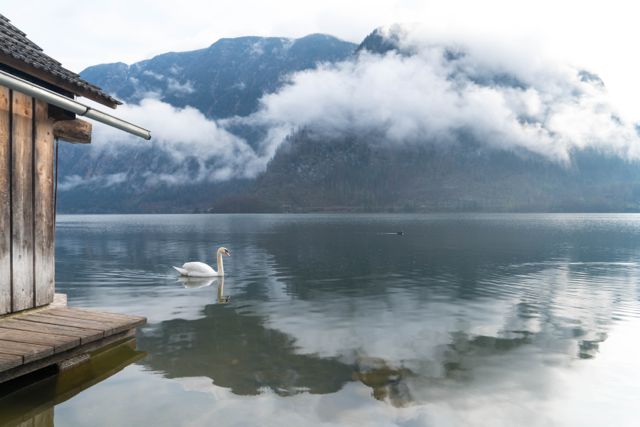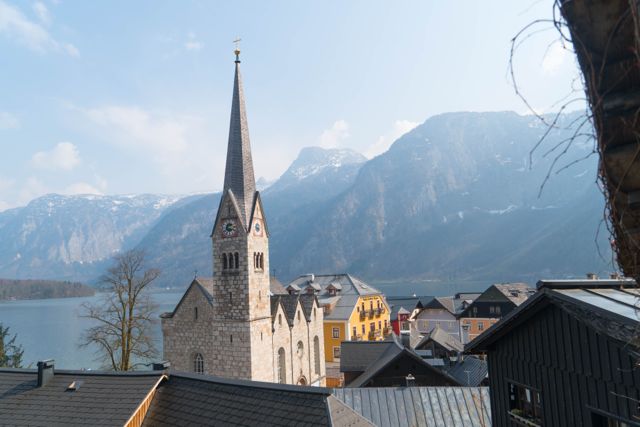 It also has a long history – with evidence of salt mining from at least 1200 BC.
I first visited Hallstatt as a child, about 25 years ago – perhaps before it had become quite as well-known – and used up quite a bit of film!  I still remember having lunch by the lake and feeding the swans.
Those swans are as bold as ever, as we discovered when we rented a small electric boat to cruise around the lake.  The swans clearly relate humans = food, so in short order one of them homed in on us.  Swans swim fast!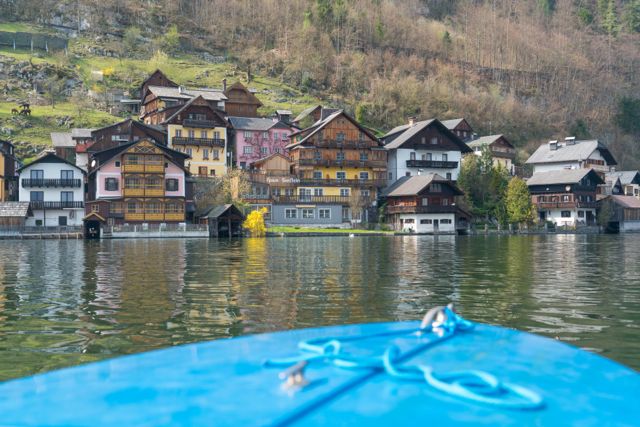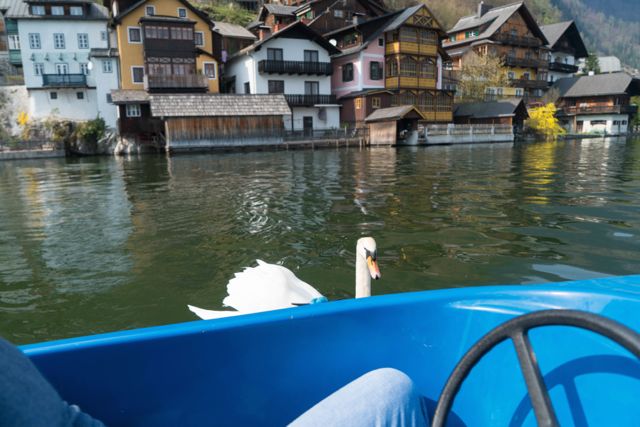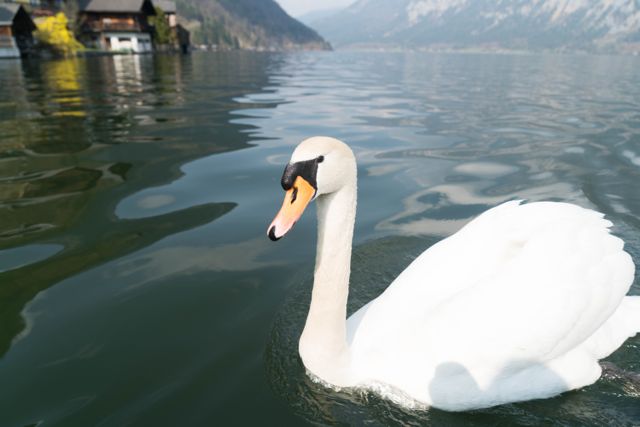 We didn't have any snacks to offer, so eventually he paddled off in search of more obliging tourists.  Meanwhile, we cruised in front our our hotel, the Gruner Baum, to check it out from the water.
You definitely can't beat the location, smack next to the church on the main square overlooking the lake.  We had one of the lake-front rooms, and it was lovely to step onto our balcony in the early morning to see the lights glimmering across the water and the first ferry pulling into the dock.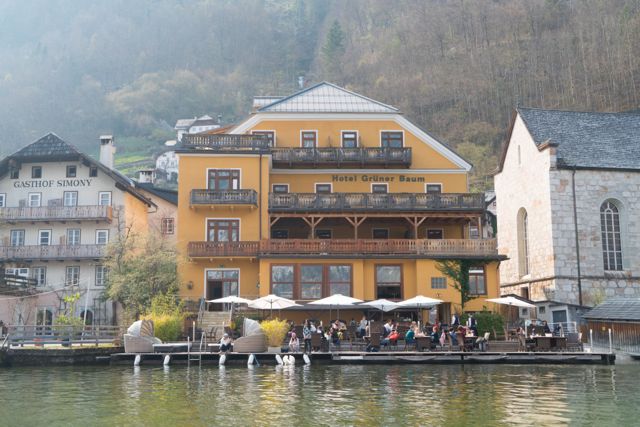 Many visitors to Hallstatt only make a day trip, but given how insanely popular it is, I knew we would want to spend a night there.  Not only do you get to enjoy some quiet exploration once the last of the tourist buses pull away, but you also get to enjoy the beauty of Hallstatt at night.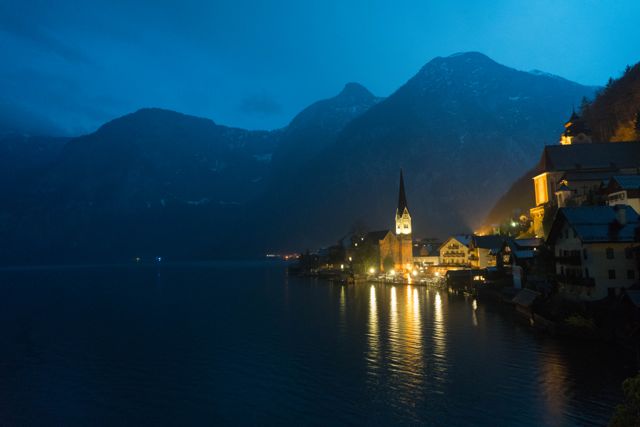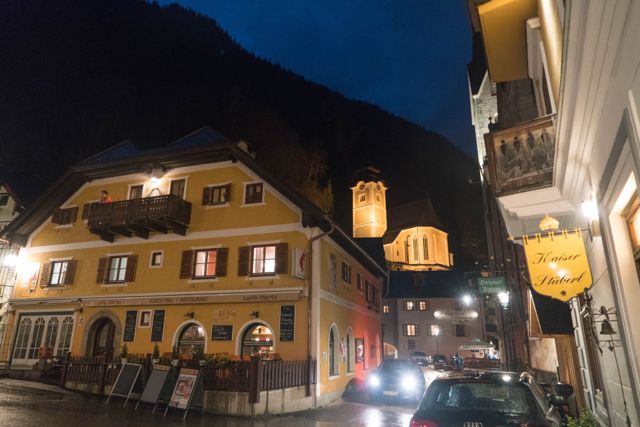 About five years ago, Hallstatt made the news when a near-replica was built in China; for some reason it's become a particular source of fascination for Chinese tourists.  Well, I guess I have some idea of the reason…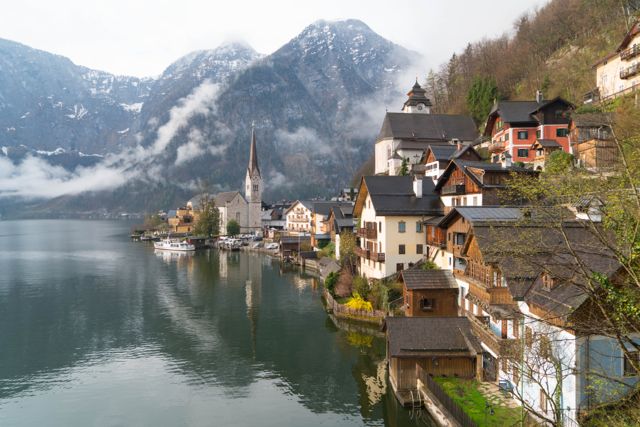 We took a break from our exploration to have some Zweigelt rosé on the hotel terrace, enjoying the lake breeze and occasional sight of another diner trying to feed a swan (usually being rewarded with a bite for their trouble!).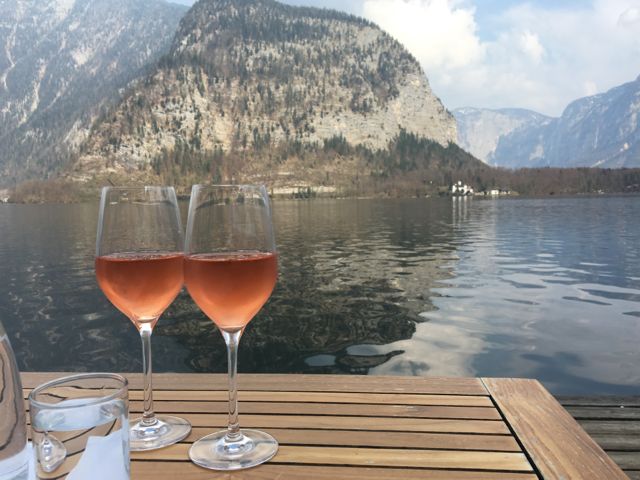 Then it was off for another ramble through town – or more accurately, a climb.  Almost as soon as you leave the main square, you're faced with steep paths and stairs.  (After all, Hallstatt is built practically on a mountain face.)
After climbing for 10 minutes or so, we ran into a friendly cat who obligingly leapt up on a railing so I could get a good shot of him.  According to our waitress at dinner that night, he's a well-known resident named Robo.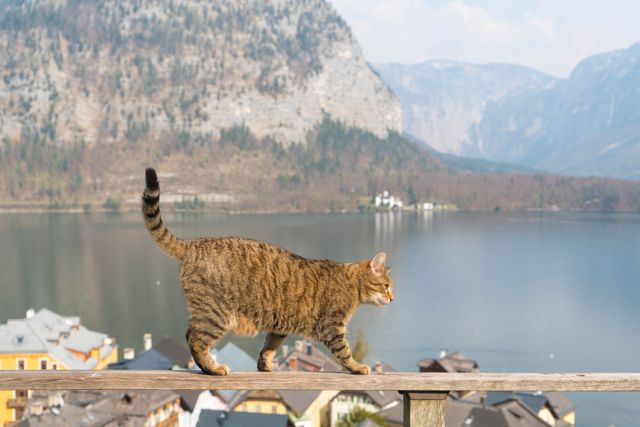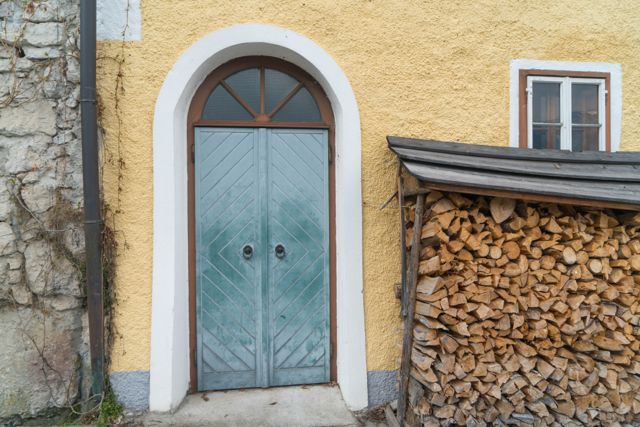 Despite the crowds – and the millions of photos out there – it's still a very special place to visit.