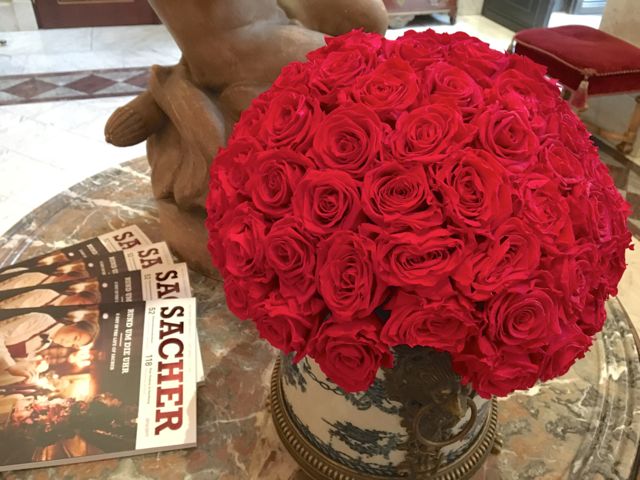 A few things I learned about the Hotel Sacher, our home in Vienna:
Shares its name with the famous Sachertorte, and though the cake was actually created elsewhere you can still get a wonderful version at the Cafe Sacher
The lobby office is filled with photos of its famous guests, including British, Spanish, Japanese, and Dutch royalty (Prince Charles and Camilla's stay overlapped with ours)
Featured in a TV miniseries called Das Sacher – alas, only in German so I couldn't watch it
Served as the British HQ in post-WWII Allied-occupied Austria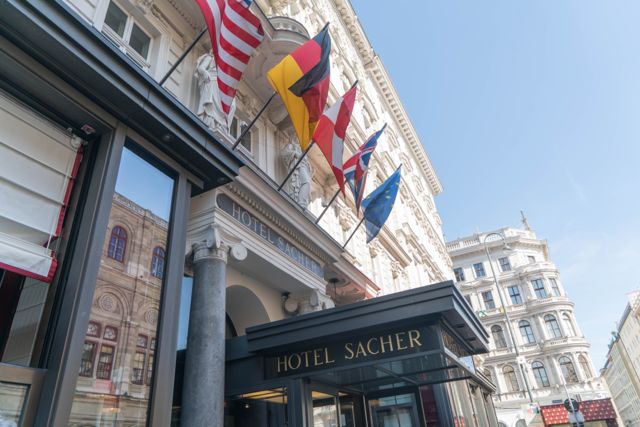 The Sacher blends modernity and tradition, with tiny elevators and winding corridors that lead to bright rooms with control panels for the lights and heated bathroom floors.  I was also charmed by the service: front desk staff who facilitated and early check in, doormen who recognized and greeted us each day, efficient concierges who helped us with all sorts of questions and arranged a table at the cafe whenever we asked.
And the location is hard to beat, directly opposite the Staatsoper so that you can easily stroll over for a performance.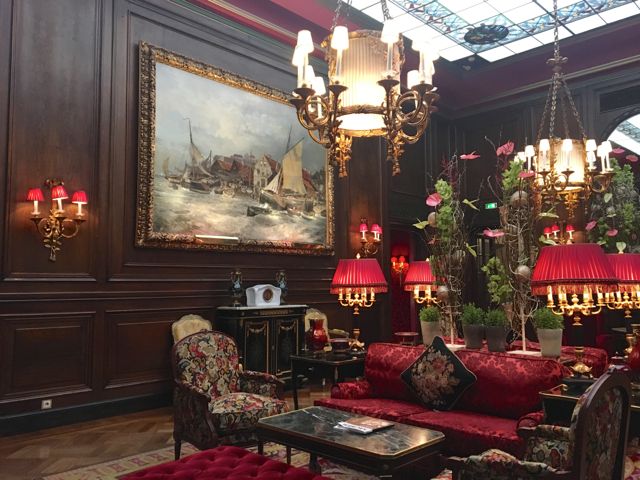 Rooms at the Sacher are all decorated differently – ours was done in subtle blush tones, with lots of mirrors and a beautiful chandelier.  The bed was incredibly comfortable, with big pillows and fluffy feather duvets.
Did I mention the Time to Chocolate toiletries?  They're definitely unique, but even as a chocoholic, I'm not convinced that I want to wash my hair with shampoo that smells like hot cocoa!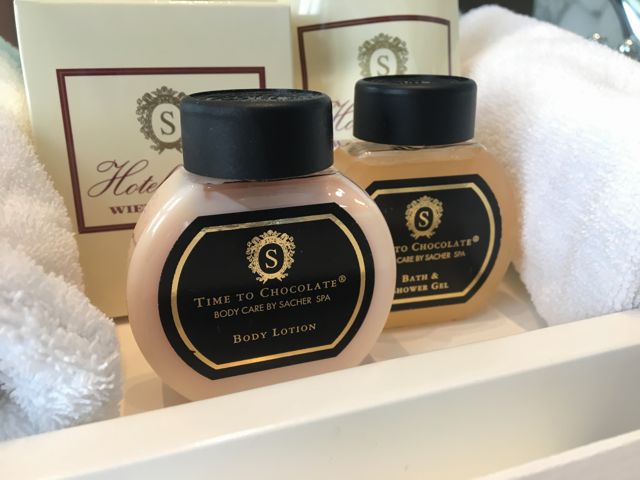 I was quite taken by the Blaue Bar (Blue Bar), which stands in colorful contrast to the red lobby sitting area.  We popped into this lush and diminutive space a few times for cocktails or champagne, blending with artsy types over from the Staatsoper, German-speaking businessmen, and fellow hotel guests.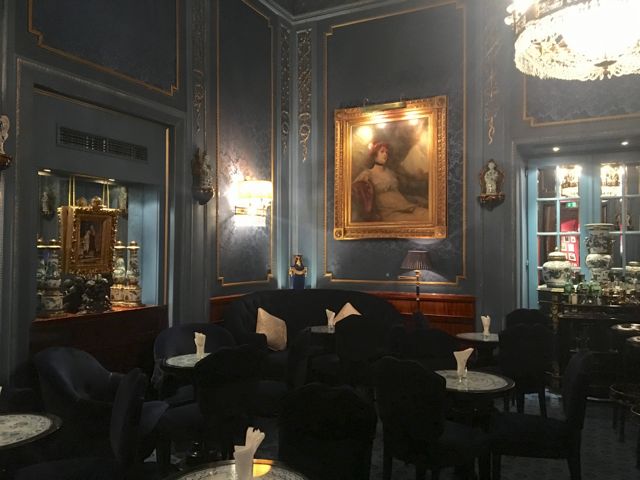 While we didn't try the hotel restaurants, we did have breakfast every day.  You're seated in yet another glittery room that's adjacent to the expansive buffet, which includes champagne on ice and a gilded credenza laden with desserts (Sachertorte, strudels, gugelhupf cakes).  Each morning I had high hopes that I'd make it to the dessert table, but each morning I found that I filled up on my usual fare – a seeded roll with butter and honey, some yogurt, and a little smoked trout or cheese.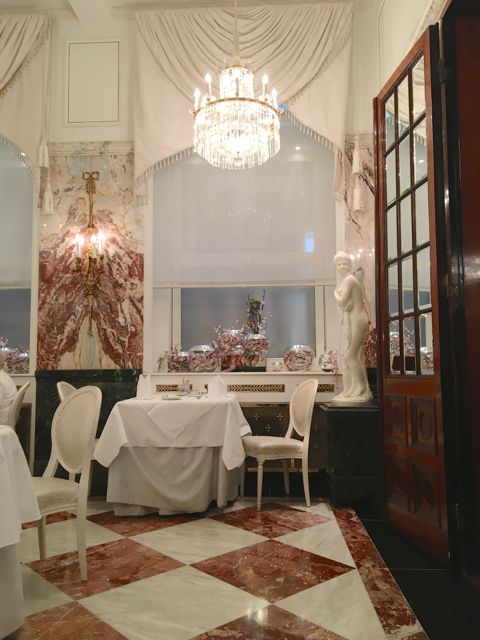 Every moment of our stay was delightful, right up until we were tucked into our taxi to the airport, with breakfasts packed in burgundy Hotel Sacher bags for the early flight.  And as if they'd read my mind, they'd included Sachertorte!