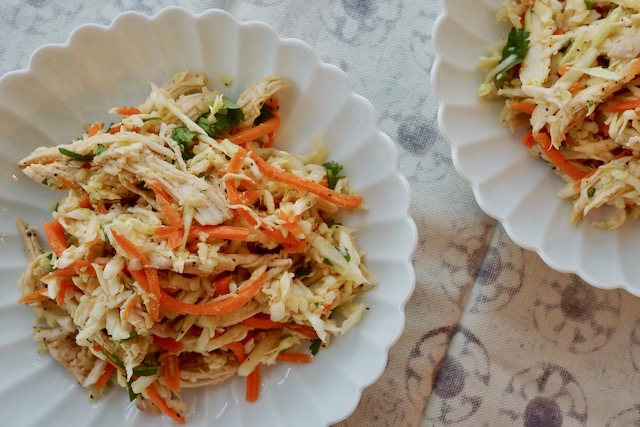 Who wants to cook after getting home from work on a hot day?  Not me!
That's where chicken salad comes in – no need to heat up the oven or stand over the stove, and it's pleasantly cool to eat.
I decided to recreate an old favorite of mine from Sushi House in Palo Alto, which features a tangy sesame dressing.  To make my version, I just mixed rice wine vinegar and toasted sesame oil until I found the proportions I liked, and added a bit of sugar.
The chicken is easy: buy rotisserie chicken, shred.
Instead of lettuce, I ran some green cabbage and carrots through the food processor to make a sort of slaw, and tossed everything together.  Add a little cilantro and a few twists of freshly ground black pepper, and voila – easy dinner!  (I did consider toasted sesame seeds but decided that was unnecessary lily-gilding for a weeknight.)
***
Japanese chicken salad
1 small head green cabbage
2 medium carrots
1 rotisserie chicken
1/2 cup rice wine vinegar
1/8 – 1/4 cup toasted sesame oil
3/4 tsp sugar
Handful of cilantro (optional)
Shred the cabbage and carrots, either in a food processor or by hand, and set aside in a large bowl.  Shred the chicken (remove the skin first) and add to the bowl.
Make the dressing: combine vinegar with oil to taste (I like a 3:1 vinegar:oil ratio but you can adjust) and add sugar.  Mix thoroughly – it's easiest if you shake everything together in a jar, though this dressing doesn't emulsify as much as most.
Pour dressing over the salad and toss to combine.  If desired, add chopped cilantro.
Serve cold.