There's no two ways about it – I love cake.  And I especially love lemon cake.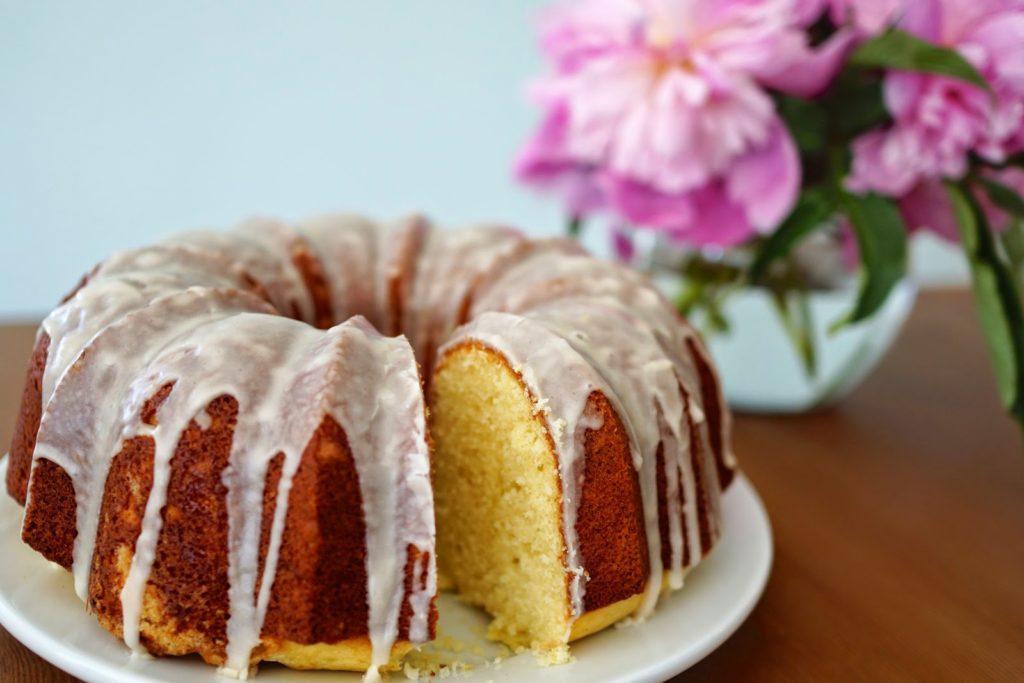 My sister made this cake for me last year (yes, she's the best!) and I savored every slice. So I set about to make my very own lemon buttermilk bundt cake.
It's a more complicated recipe than what I usually tackle; once the cake was iced, my sense of accomplishment was topped only by the mess in my kitchen!
But oh, it's good – lemony tart cake with an ever-so-tender crumb, and tangy glaze just to gild the lily.
***
Lemon buttermilk bundt cake
Cake
2 1/4 sticks unsalted butter, softened
1 3/4 cups sugar
Zest from 3 lemons, finely chopped after grating
1/4 cup lemon juice
3/4 cup buttermilk
1 tsp vanilla
3 cups flour
1 tsp baking powder
1/2 tsp baking soda
1 tsp salt
3 eggs plus 1 yolk
Glaze
3-4 tbsp lemon juice
1 tbsp buttermilk
2 cups powdered sugar
Preheat oven to 350º.  Spray bundt pan with non-stick spray (either regular or the type with flour).
Add zest to lemon juice in measuring cup.  Then add 3/4 cup buttermilk and the vanilla.
Whisk together dry ingredients in medium bowl.  Beat eggs and yolk together with fork in a small dish.
Beat butter and sugar in stand mixer with flat beater, until light and fluffy, 2-3 minutes.  Scrape down the bowl with a rubber spatula, then add eggs in two batches, beating at medium speed in between.  Scrape bowl.
Stop mixer, and add about a third of the flour.  Incorporate at low speed.  Increase to medium and add half the buttermilk-lemon mixture.  Repeat with another third of the flour and the remaining liquid.
Scrape, then add the last of the flour and beat just until incorporated.  Remove bowl and stir by hand to ensure the batter is fully mixed.
Spoon batter into prepared cake pan and smooth with spatula.  Rap once or twice on counter to remove air bubbles.
Bake for 45 minutes, then check to ensure a toothpick comes out clean.  If needed, bake another 5 minutes.
While cake is baking, make glaze.  Combine powdered sugar with 2 tbsp of lemon juice and the buttermilk, and stir with a fork to break up any lumps and incorporate the liquid.  Add up to 2 tbsp more lemon juice, and switch to a whisk to ensure the glaze is smooth and has the right consistency.
Cool for 10 minutes in pan set on wire rack.  Check cake with a plastic knife to make sure it will separate cleanly from bundt pan, then turn out onto wire rack and set on top of a baking sheet.
Spoon half the glaze over the cake, then let rest for an hour.
Spoon the rest of the glaze over (add a bit more lemon juice if it's hardened in the meantime) and let cake cool fully before serving.