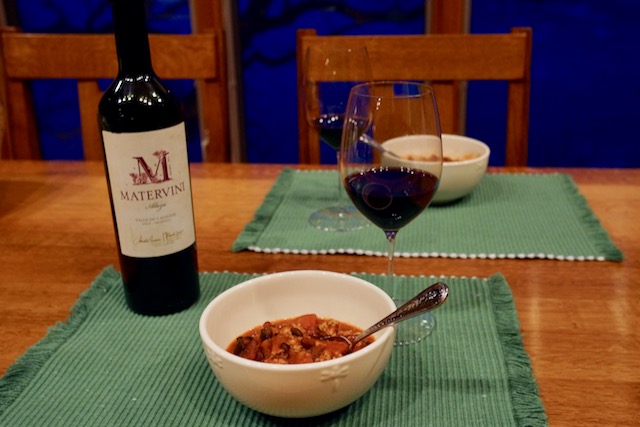 Here's a new take on my standard chili recipe, the way I've been making it lately – even easier than the original and perfect for a chilly night.
It yields a bit less, so you don't need to open as many cans and there aren't as many leftovers to worry about (but of course you could scale up).   I like mixing black and kidney beans, but you can customize in all sorts of ways, from the type of beans to the type of meat, and the relative quantities.
One thing you can't change, though: the "secret" ingredients of brown sugar and red wine vinegar!
We opened a bottle of fruity Matervini Malbec from our visit to Mendoza, which was an excellent pairing.
***
Quick turkey chili
1 small onion
1 orange pepper
Garlic, optional
1 lb ground turkey
3 tbsp chili powder
Salt to taste
28 oz strained or pureed tomatoes (I used 26.5 oz Pomi box)
15 oz can whole tomatoes
15 oz can black beans
15 oz can kidney beans
Slosh of water, if needed
1 tbsp brown sugar
1 tbsp red wine vinegar
Dice the onion and pepper (and garlic, if using) and saute in oil until softened.  Add the turkey and cook, then add the chili powder and salt.
Next, add the tomatoes.  (For the whole tomatoes, pour in the juice and then chop the tomatoes before adding.)
Drain and rinse the beans, then add along with water, if desired to adjust consistency.  Simmer for 15-30 minutes, depending on how much time you have, then stir in brown sugar and vinegar.