Last month, D and I noticed a last-minute Saturday night reservation for Moto on OpenTable, and decided to go. I always have fun eating my way through their mad scientist tasting menu… Literally, in fact, since the menu itself is edible.

One of the first courses was this "snowman" made of sake foam atop tuna tartare, which I find myself still occasionally thinking about weeks later.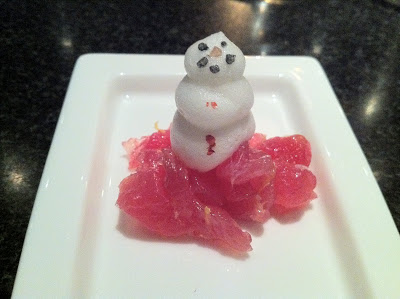 That's because it embodies a question that places like Aviary have also raised in my mind recently, about the balance of focus between creative presentation and the food itself.

As you'd expect, most restaurants tend to come down firmly on the side of the food; the presentation is simply attractive plating. It's more involved at Alinea, where the presentation and overall experience are quite carefully designed – for example, a dish is served on a "pillow of nutmeg air" that slowly deflates, releasing its aroma while you eat, or a morsel of pheasant tempura is skewered upon an oak branch with singed leaves, to capture the feeling of autumn. Ultimately these are meant to enhance the exquisite food, striking a perfect balance.

Then there's Moto, where presentation is paramount, intended to shock, amaze, or amuse the diner. The food is generally quite good, but above all it's always theatrical.

I once had a dish at Moto called "Roadkill" that included something akin to rice crispies to symbolize bones, smears of red sauce across the plate, and a mushroom mousse molded to look like a brain. This is pretty much the only thing I've ever been too grossed out to eat, solely because of the presentation. To me, this went too far – the food was almost irrelevant.

The snowman made me smile with delight when I saw it, and while the flavors were nice, they weren't as good as I would have hoped. But it was unexpected and fun. How much do the charm and entertainment value of a presentation offset lackluster food? I still haven't decided.