When it comes to showing off Chicago to out-of-town guests, the Signature Room is a common suggestion. And yes, the view from the 95th floor of the Hancock building is unbelievable in every direction. But it's also very, very remote, like looking down on the city (and neighboring states) from an airplane. Alternatively, there's an architectural boat tour, which offers a neck-craning view of the notable buildings along the river.


The best of both worlds is the Terrace at the Trump (much as it galls me to support anything related to the Donald), so that's where I took my sister. After all, a rooftop bar is very Chicago.


The sixteenth floor terrace is nearly exactly eye-level with the tops of the architecturally engrossing Wrigley Building and Tribune Tower, so there's a dramatic immediacy to this view. It makes me feel sort of like I'm in the middle of a movie – indeed, the latest Transformers has a number of scenes filmed here.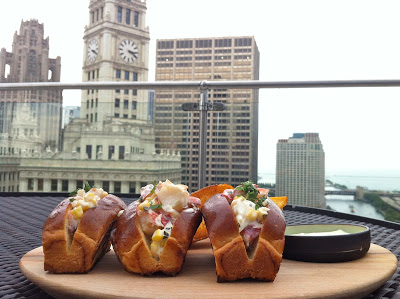 It makes an ideal spot for an afternoon drink and snack – get there shortly after the 2pm opening to snag a table with unobstructed view.


I had a dark & stormy, which always makes me feel like I'm on vacation, while my sister chose one of the specialty cocktails, the strong – but tasty – "agave goldcoast" with rum, tequila, and apricot brandy.


We had the "lobster babies", essentially miniature lobster rolls complete with buttered top-split buns, served with spicy steak fries and blue cheese sauce. They were very good, with fresh corn and herbs mixed in with the lobster, though certainly hotel-with-a-view-priced at $39.


After an hour on the terrace, we headed back down Wabash to finish our shopping – refueled and revitalized.