Our journey to Tokyo Station Ramen Street is not an easy one.  I can't overstate how massive the station itself is: endless passageways, multiple levels, and seemingly thousands of tiny shops and restaurants.
Should we head towards the Yaesu North, South, or Central Exit?  Oops, distraction strikes when the station merges with the basement of Daimaru department store.  Then we dodge around the entrance to GranSta (what's that?) and are briefly tricked by two other restaurant streets within the station.  Finally, after what feels like an hour of walking, we stumble upon Ramen Street.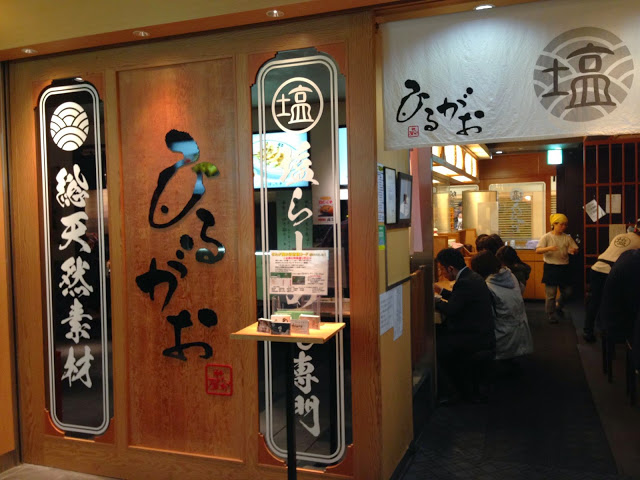 One last challenge stands between us and ramen – the ticket machine. There are no English instructions, so I watch the guy in front of us for a mini-training session, but somehow when it's our turn I still manage to accidentally order three beers.  (We get a refund from the hostess, who presumably sees this sort of thing a lot.)
To help you avoid my fate, here's a rundown of how to use the machine:
Put in enough money to cover what you plan to order (each ramen is about 1000 Yen, gyoza are about 500 Yen, and beer is about 500 Yen, so 2500 Yen per person should be safe).  The cash goes in at the bottom right of the machine (just below the card reader in the photo below).
Push the big buttons (conveniently labeled with photos, in most cases) that show what you want.  Note that often the most popular ramen is tagged with a handmade sign.
If you'd like two of the same thing, just wait a moment and press the same button again. (There's also a multiplier button, but this is how I ended up with three beers.)
For some items, like drinks, there aren't photos so you can either guess based on prices or ask.
For each item you order, a ticket will come out of the bottom of the machine.
Beware – if you wait too long between pushing buttons, the machine will time out and give you your change.  If you've successfully placed all your orders and want to cash out faster, push the black button in the bottom middle.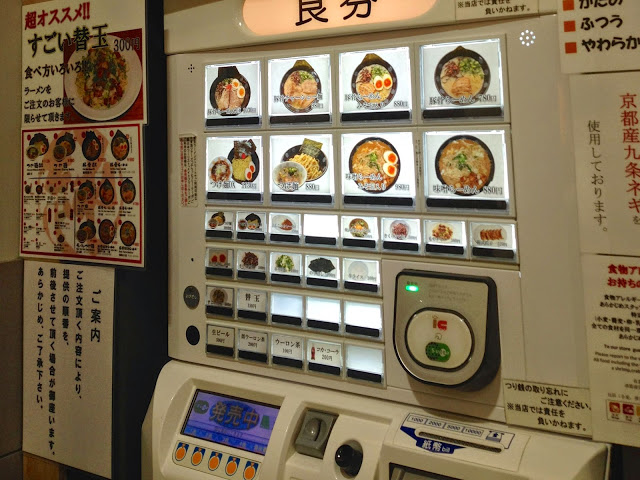 Back to the ramen.
There are eight shops in Ramen Street, some of which have entrances inside the narrow "street" itself and some of which have entrances on the opposite side, off the station corridor.  This proves tricky, as we think we're in line for one shop but it turns out we're in line at its neighbor.
We end up at Hirugao, which is a fine choice (even if mostly by chance).  They're known for shio ramen, with a broth made of chicken, fish, and scallop abductor muscles.  The version we had also included chashu pork, egg, and slippery dumplings, plus finely shredded negi (scallions) on top.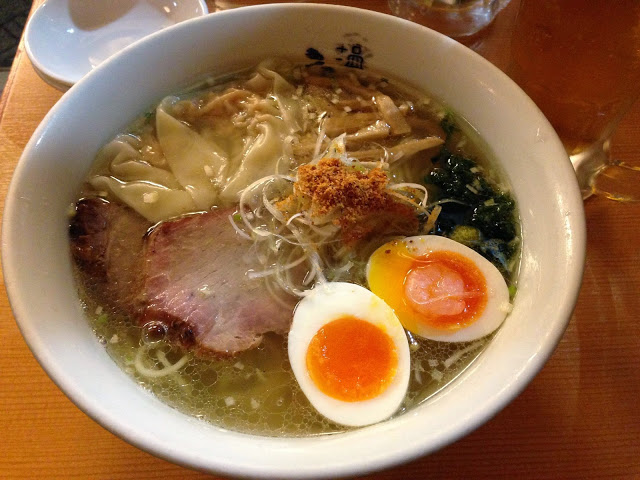 We ordered gyoza, which were delicious; I especially liked the mild rice vinegar on the table to dip them into.  And one of my favorite details was that the chopsticks had a ribbed texture at the ends, to help grasp the noodles more securely.
On our last day in Japan, we returned to Ramen Street (with greater success both on the navigation and ordering front), this time to Oreshiki Jun for tonkotsu ramen.  I got the basic ramen, while D went for the dipping ramen.
You can see the difference in the noodles – mine were quite fine, while his were thick and a darker yellow color.  But those glorious Japanese eggs are the same in every bowl!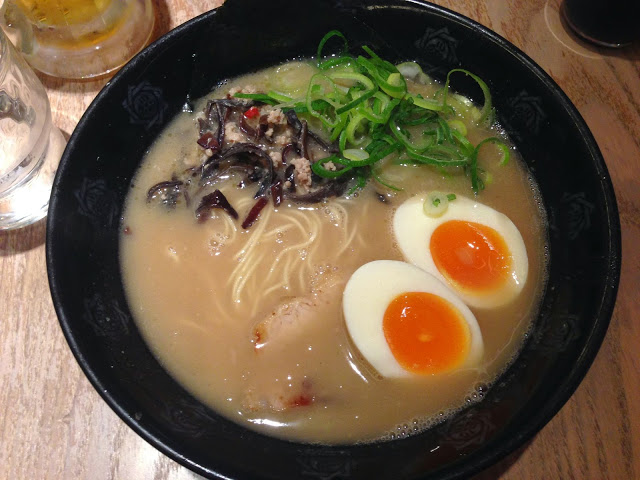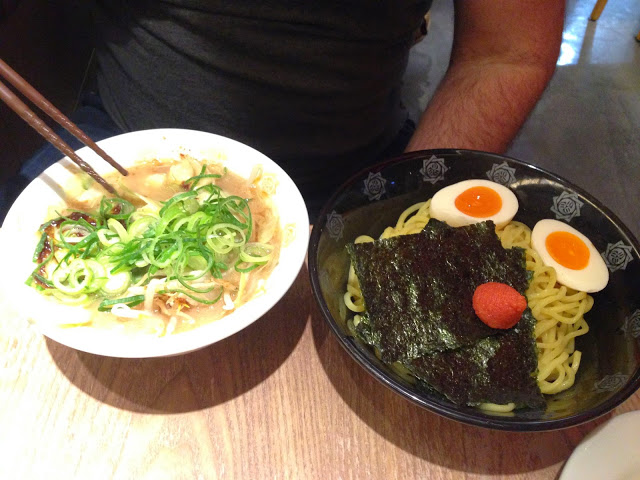 ***
Tips on finding it:  I don't dare try to give any guidance on this, except to say – head towards the Yaesu Central exit, and cross your fingers!