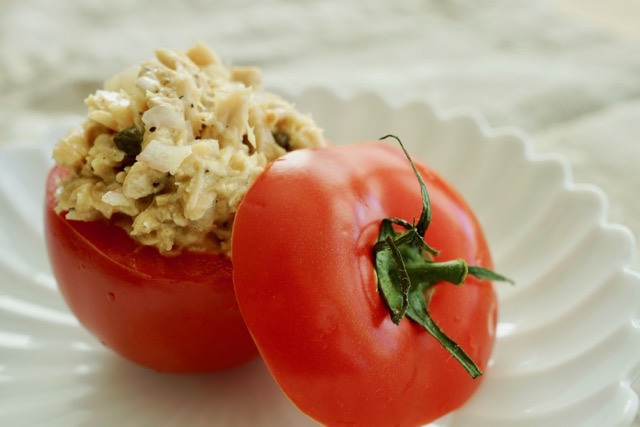 Since we eat out a lot, I'm always trying to come up with quick and healthy meals to have at home.  This one is so easy, it's perfect to make in advance before we drive up to Wisconsin on a Friday afternoon – once we arrive, all I need to do is prep the tomatoes and spoon in the tuna, then serve with some salad and bread on the side.
Tuna salad is not typically a favorite of mine – I don't really care for mayonnaise, and I am not a fan of celery.  Fortunately, tuna works well with many other ingredients.
D loves mustard and onion and these are an excellent start – mustard binds the fish instead of mayo, and onion or shallot more or less replace the crunch of celery.  Meanwhile, I love lemon and lots of black pepper with almost anything, so those are a must.  I also add capers.  To gild the lily, some fresh herbs would be nice – parsley or tarragon, perhaps?
I think it's worth being picky about your tuna – not only from the environmental side, but also because the texture is much better!  My latest discovery is from Whole Foods, sustainable line-caught Albacore tuna loin from the Pacific Northwest, packed whole into the can (the brand I found is Henry & Lisa's).
One last note – while you certainly don't need to eat this tuna salad with tomato, it's delicious that way.  I definitely recommend it!
***
Tuna salad
10 oz canned tuna, mostly drained (2 small cans)
Juice of one lemon (and zest, optional)
3 tbsp Dijon mustard
1 tbsp capers, rinsed and chopped
2-3 tbsp minced shallot or onion
1 tbsp olive oil
Lots of freshly ground black pepper
Combine and mix.  Note, all ingredients may be adjusted to taste.