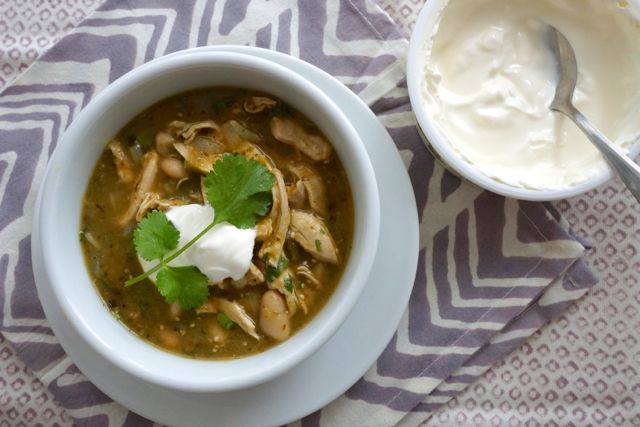 I can't believe it's taken me this long to make chili verde!
Given how often I make chili – it's so easy! – and how much I love chilaquiles verdes, this was a natural next step.  It's a bit more involved than my usual tomato-based chili, but worth the effort.
As in my chilaquiles recipe, the sauce is made from scratch with broiled tomatillos and poblanos, blended together with a bit of chicken stock.  Then I poached and shredded some chicken, setting it aside while I added seasonings.
After reading a bunch of recipes for ideas, I raided my spice cabinet added a bit of this and a bit of that until I liked the flavors – cumin, coriander, and a little cinnamon.  Then the chicken went in, along with some cannellini beans just to make it a bit heartier.  Plenty of chopped cilantro, and a dollop of sour cream, finished off the chili perfectly.
***
Chicken chili verde
2 poblano peppers
1 1/2 lb tomatillos, husks removed
3 cups chicken stock
1 – 1 1/2 lbs boneless, skinless chicken breasts
1/2 yellow onion
1 jalapeño
3 cloves garlic
2 tsp cumin
1/2 tsp coriander
1/4 tsp cinnamon
Pinch of dried oregano
1/4 tsp salt or to taste
Black pepper to taste
1 can cannellini beans (optional)
Fresh cilantro
Cut poblanos in half and remove ribs and seeds.  Toss, along with whole tomatillos, with a bit of olive oil and place on lined baking sheet.  Broil 10-15 minutes, until skins are blistered and beginning to char.  Transfer tomatillos to large bowl, being careful to preserve juice.  Remove poblano skins and chop roughly, then add to tomatillos.
Poach the chicken: combine stock and chicken and bring to boil, then reduce to simmer.  Cook 10-15 minutes, until chicken is 160º.  Remove chicken to a plate and strain the stock, if desired, before adding to tomatillos and poblanos.  Using immersion blender or food processor, blitz the mixture.
Chop onion, remove ribs and seeds from jalapeños and mince, and slice or chop garlic.  Combine in large pan with a bit of olive oil, and sauté until onions are softened.  Add spices and cook for a minute or two.   Meanwhile, shred chicken.
Add tomatillo mixture and shredded chicken, then simmer for 20 minutes or so to slightly reduce.  If desired, add rinsed beans and cook a bit longer.  Add chopped cilantro before serving.