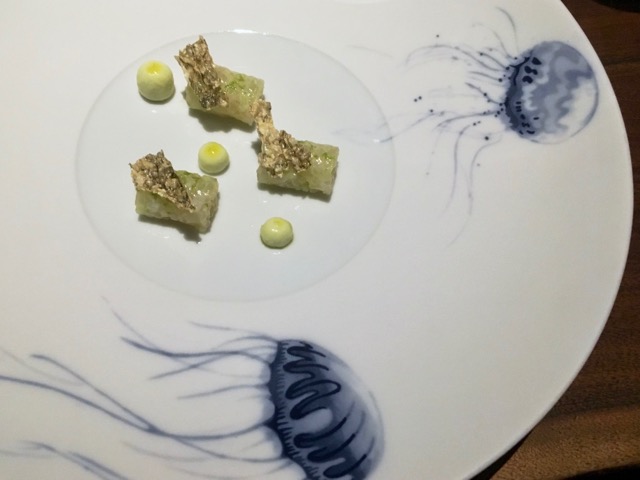 On my recent work trip to San Francisco, I visited a restaurant that's been on my list for a long time – Coi.  Chef Matthew Kirkley was previously at L2O, one of our favorite restaurants in Chicago (which since closed).
I'm happy to report that his cooking has only gotten better and more elegant since he moved west!
My uncle joined me for dinner and we enjoyed the tasting menu, plus a bottle of nicely dry 2006 Clos St Hume Riesling.  Things kicked off with three small bites: a "Little Skookum" oyster resting on a tiny lettuce leaf (the name is so funny!), smoked mackerel à la grecque, and a little glass of fennel mousse with sea urchin on top.
Then the beautifully-plated courses began arriving – I've always been such a fan of Chef Kirkley's aesthetics.
First, we had a plate with three small whitish-green cylinders, topped with shards of fish skin that almost made them appear to be swimming along with the jellyfish painted on the plate.  It took a moment – and a bite – to figure out that this was finely diced loup de mer and honeydew, a very delicate take on tartare or ceviche.  This was my favorite course!
Next came tender, thin slices of abalone folded within equally thinly sliced pear and arranged around the edge of a bowl in a sort of flower.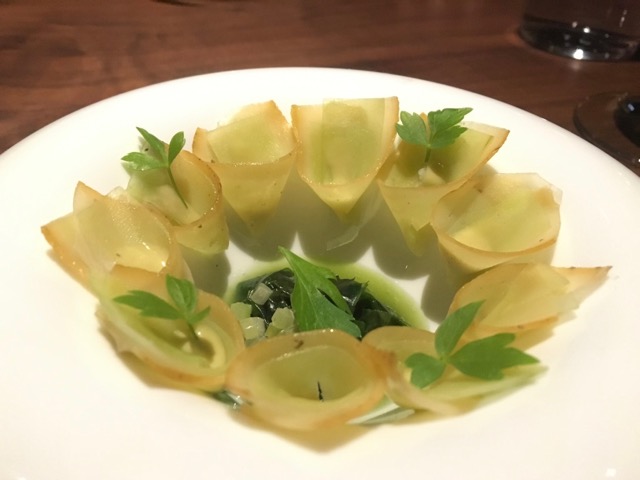 An Alinea-style service piece arrived bearing a miniature Dungeness crab "ravioli" with a glowing orb of melon: one tasty bite.  Then came bread service, accompanied by a very cool, sculptural butter ribbon.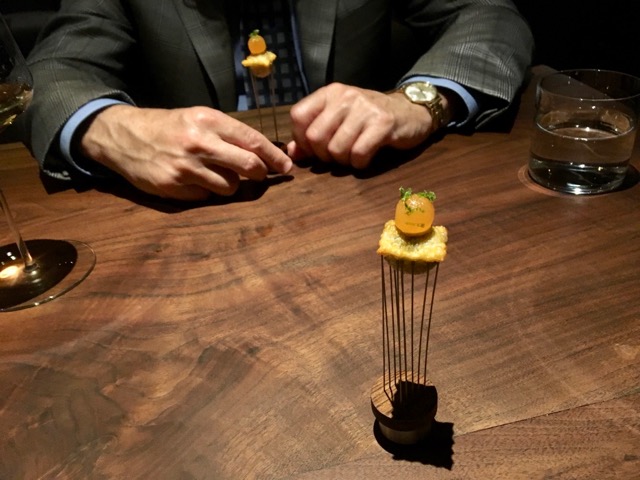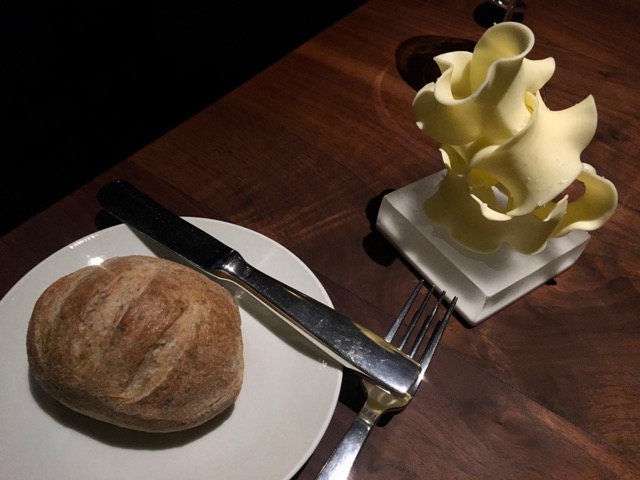 Heavier courses arrived next: first little pasta shells stuffed with bone marrow and served with a deliciously rich sauce, and then the most striking dish of the evening, filet of turbot with technicolor root vegetables "scales" and buttery sauce with vegetable confetti.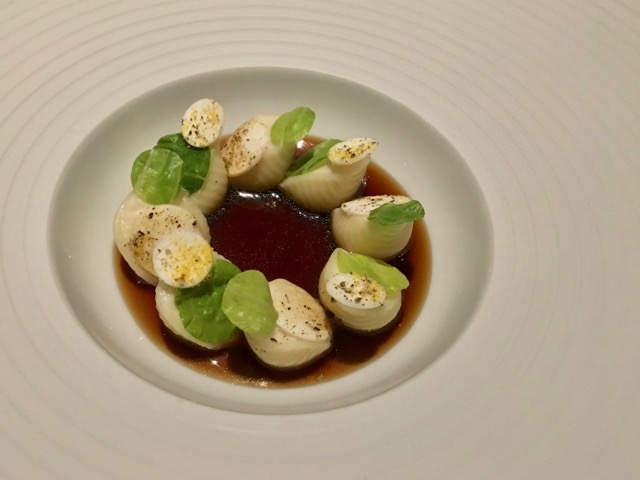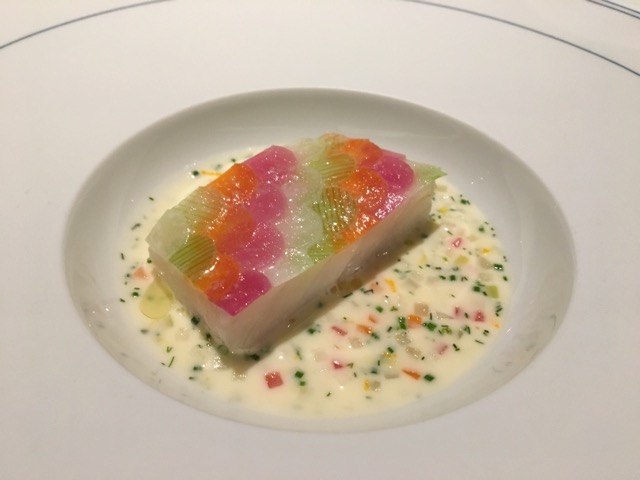 Desserts aren't the star of the show here, but are still nicely turned out.  We had a green herb sorbet with strawberries (spotted with elderflowers) and chocolate praline orbs that reminded me of a solar system.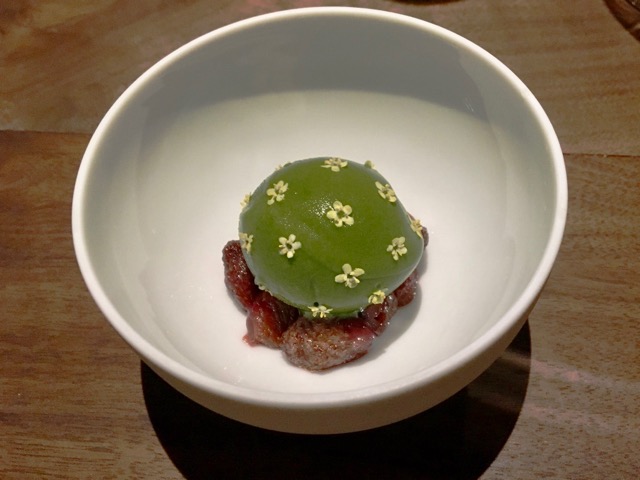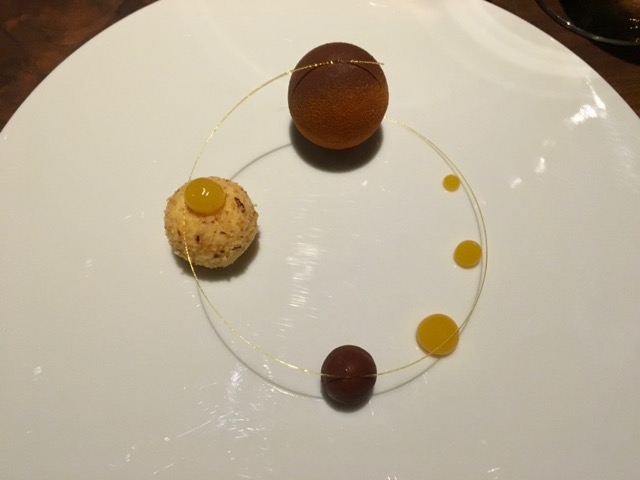 The wine list here is a treat, including the option of having 1961 Chateau Caillou Sauternes by the glass.  1961!  It was closer to sherry in color than the usual straw-yellow of Sauternes, not too sweet, a bit nutty.  An unexpected and fun ending to our meal, along with very good mignardises.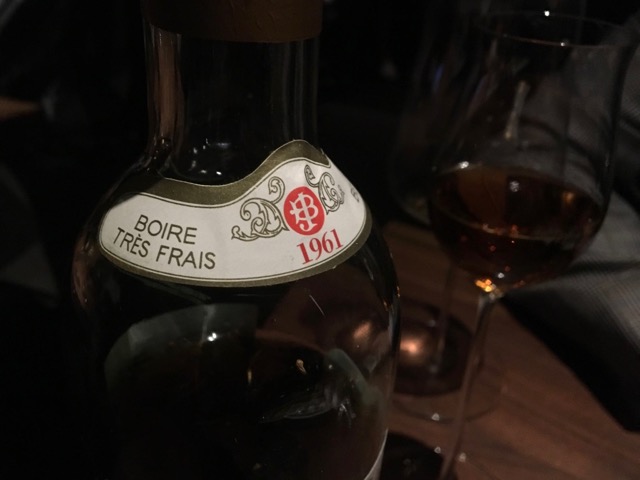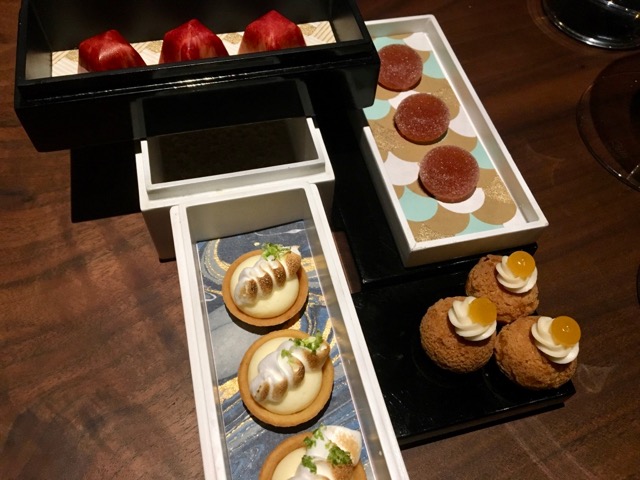 I look forward to a return visit!