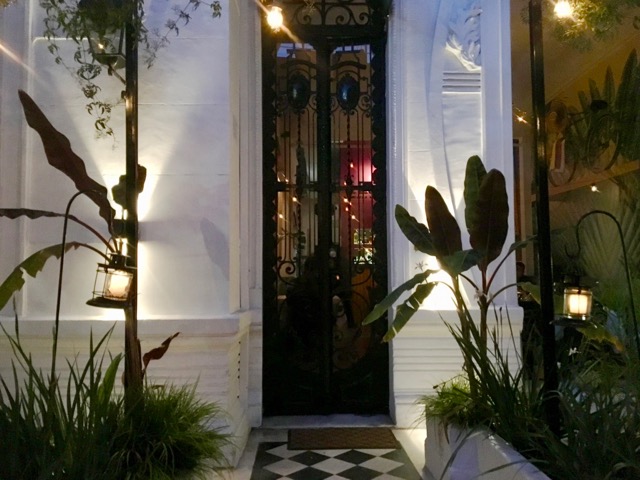 I knew we'd eat a lot of steak in Argentina, so our first dinner in Buenos Aires was at the complete opposite of a parilla: iLatina.  There's no steak in sight!  The cuisine is Colombian (and Mexican and Peruvian and Ecuadorian and more) in inspiration; the wines, meanwhile, are all from Argentina.  It's a creative mashup – a tasting tour of Latin America.
As at most places in BA, you buzz to be let in.  Go through the gate into a prettily lit garden; walk down the black-and-white tiled path to a white townhouse, and you're welcomed through double height wrought iron doors into an airy dining room.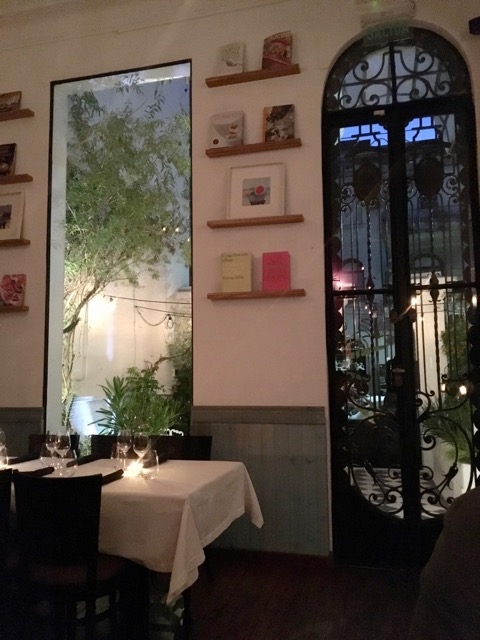 We began with a trio of corn-based bites – an arepa, an empanada, and a skewered ear of baby corn – that set the stage for the bright flavors to come.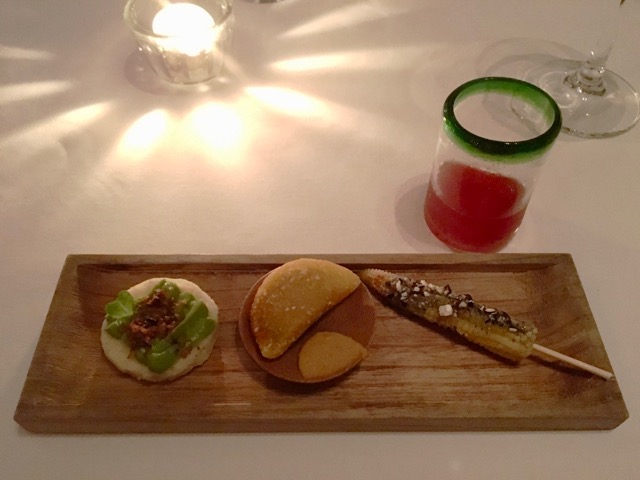 Next came a selection of breads – everything from warm corn bread and little coconut rolls to coffee and cocoa bread (unexpectedly savory rather than sweet) and bread flavored with Bolivian mint that tasted, to me, a bit like dill.  We tried to restrain ourselves to protect our appetite!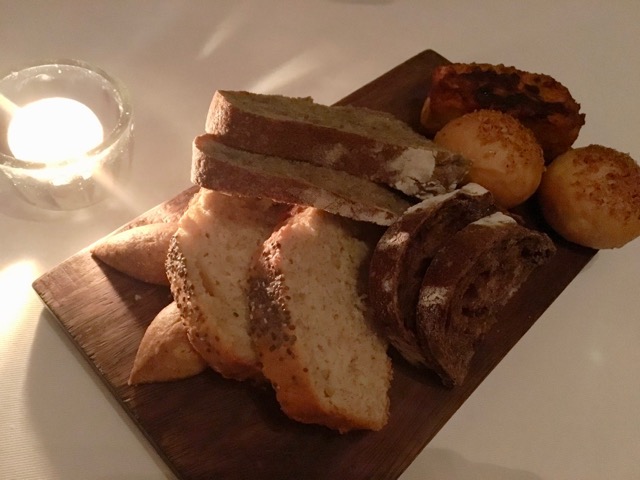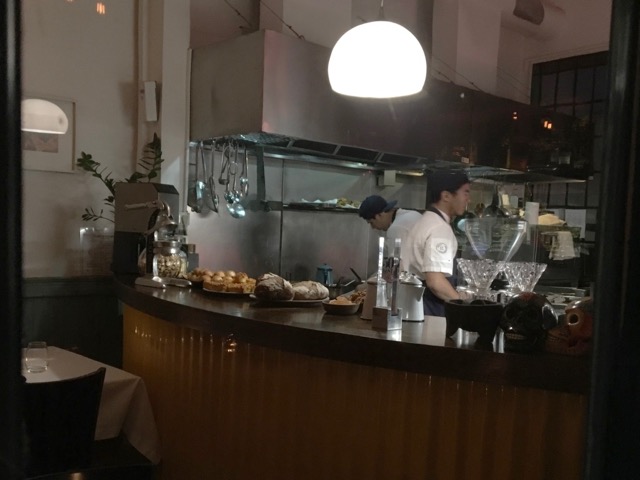 The first course was a buñelo (fried dough ball) with cured trout and an eggplant puree, paired with sparkling wine from Mendoza.  I couldn't resist eating a little more bread, too.
Next came a spicy ceviche that woke up our palates, paired with a Mendoza Chardonnay, and then a Ecuadorian dish called encocado – grilled fish and squid in a thick tomato and coconut sauce.  With this, we had Torrontes from Salta, in northern Argentina.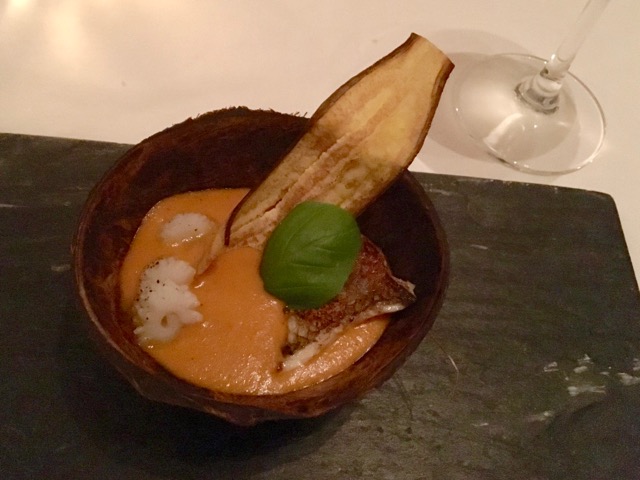 We moved on from seafood to dishes paired with red wine: first to Mexico, for quail in Oaxacan mole (mmm, mole), and then beef cheek in a sauce of Colombian coffee and sugarcane.
Then it was time for dessert, where we had a wine that I really loved – and in fact, ordered again later in our trip – Caelum Nuvela Dolce Malbec Appassito.  Appassito wines are made with grapes that are dried, so the flavor is similar to raisins.  Along with this, we had a chocolate "truffle" (more like a small molten cookie) drizzled with fruity Argentinian olive oil.
The final dish featured the flavors of a margarita, with lime meringue, mango sorbet, and little cubes of tequila jelly.  I appreciated a refreshing – rather than rich – finale.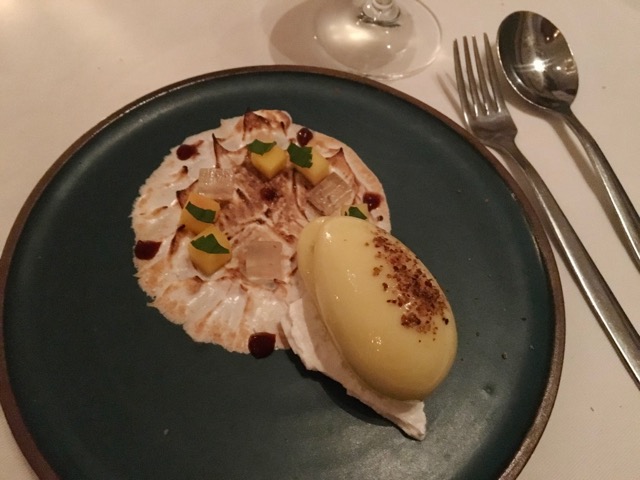 But this wasn't quite the end.  There was still the "ceremonial coffee", a presentation of pour-over coffee made with Colombian beans.  We weren't sure that coffee was a good idea for two jet-lagged travelers at 11:30 pm, but our server assured us that it was low caffeine – and indeed, it was a relaxing end to the meal and didn't keep us up.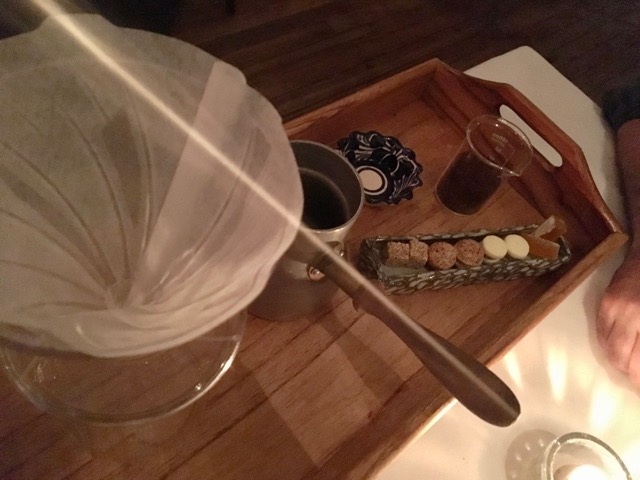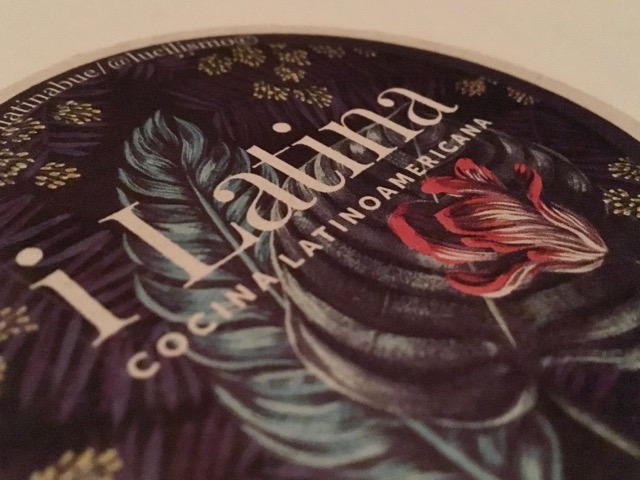 Our dinner at iLatina was a fun welcome to the Southern hemisphere, and a tasty appetizer before the many Argentinian meals to come.  Stay tuned for steak!