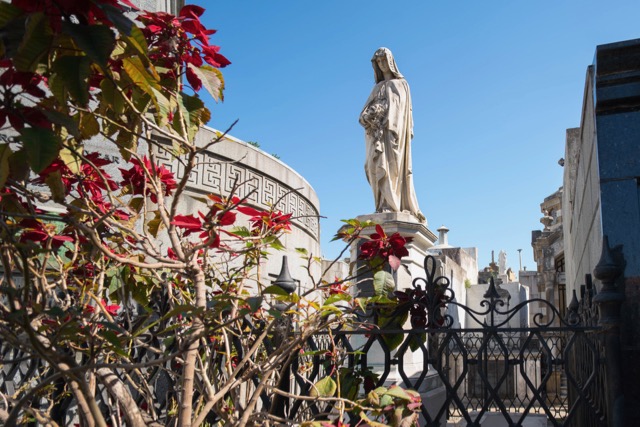 I wouldn't have guessed that my favorite place to explore in Buenos Aires would be a cemetery; they've never really interested me in the past.  But thanks to our wonderful guide, Marcelo, the Recoleta Cemetery proved to be a perfect introduction to Buenos Aires.
It's fascinating to explore – like a city in miniature, with main streets and narrow alleys lined with mausoleums and monuments.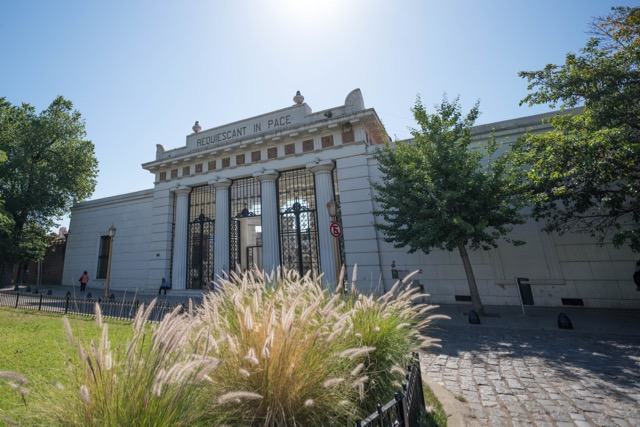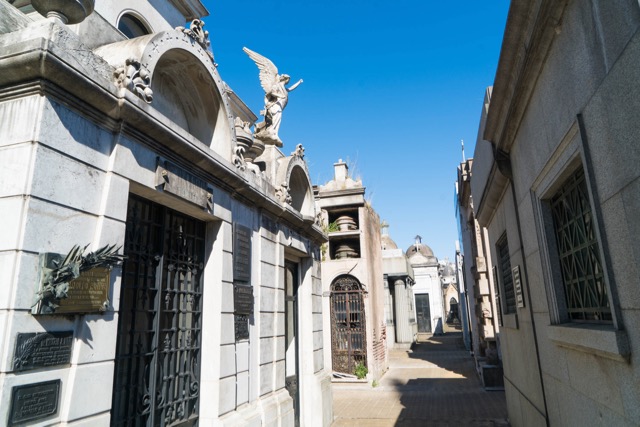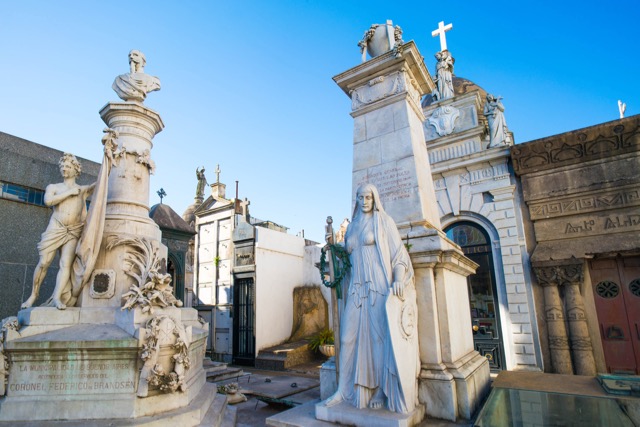 Marcelo explained that Recoleta was originally farmland on the outskirts of the city, but when yellow fever struck the neighborhoods near the port, the wealthy moved in.  They also co-opted the farmers' once-simple cemetery, even importing some of their own dead ancestors (which explains why some of the dates in the cemetery pre-date its official establishment!).
Today a narrow plot on a side street sells for $50,000.  On top of that, there's the expense of building and maintaining a mausoleum, plus taxes.  In many cases, payment has lapsed – but a 40-year grace period means that there are quite a few abandoned crypts slowly degrading.
They make for a poignant sight.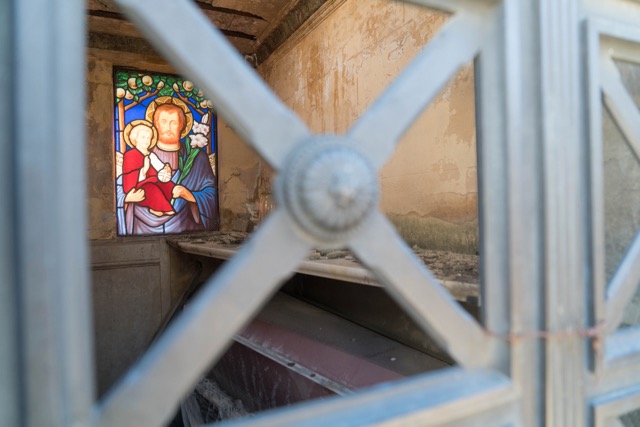 The religion, immigration, and history of BA came to life as Marcelo told us about those in the cemetery.
The most famous "resident" is, of course, Evita.  She is buried in the Duarte family mausoleum on a quiet side street – difficult to find, but unmistakeable with the flowers covering its doors.  (It took a while for her body to end up here; after a coup, she was temporarily buried / hidden in Milan…  it's a long story!)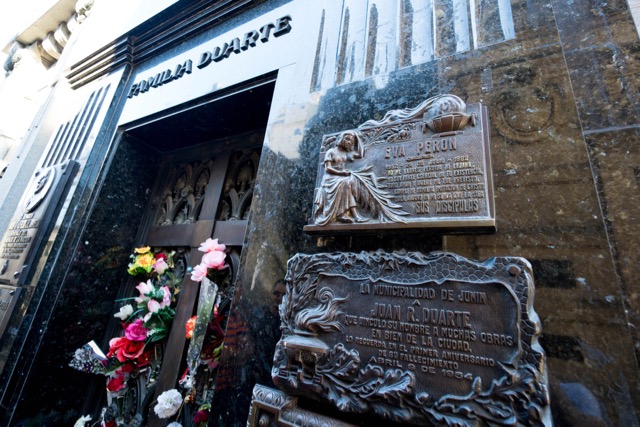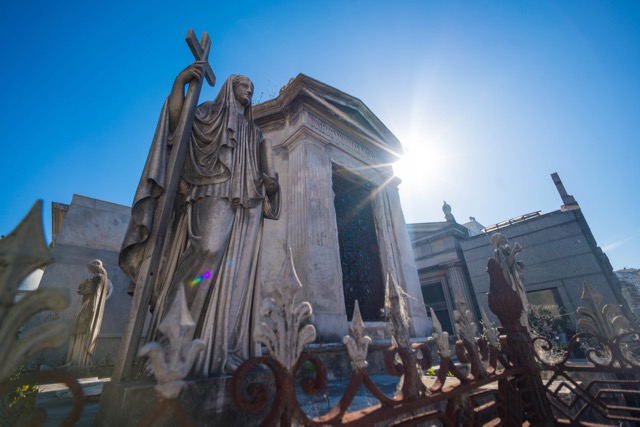 After leaving the cemetery, we walked around Recoleta a bit more to see some of the enormous neoclassical mansions, built mostly in the early 1900s.  Almost all were sold during the depression of the 1930s, to become hotels or embassies.
Next we made our way to Rapa Nui, one of a chain of chocolate and ice cream shops originally from Patagonia.  I ordered 80% chocolate and banana split ice creams, plus a hot chocolate (the really good kind that's basically just melted chocolate); D was much more restrained and just had black coffee.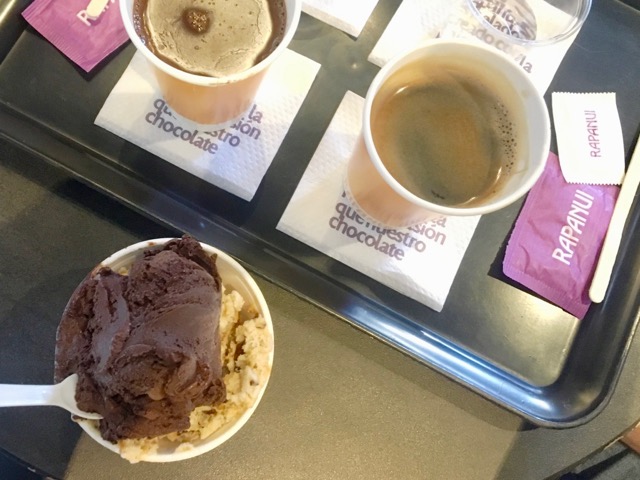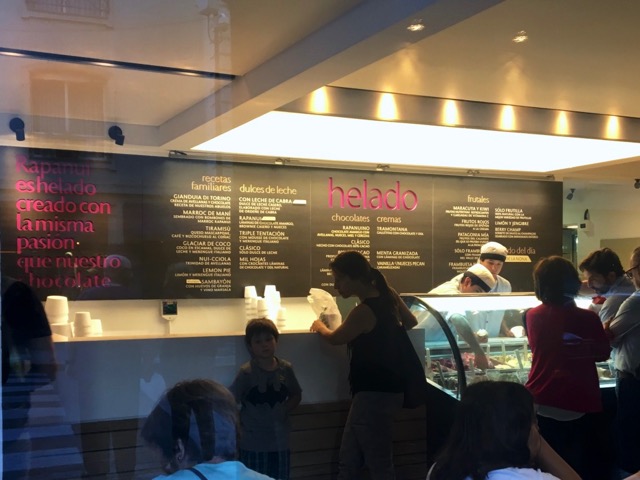 We almost felt like Porteños as we crammed around a small table overlooking the sidewalk: the perfect afternoon treat after our first few hours exploring Buenos Aires.