When I started planning our trip to Vienna, D's first (and really only) request was for wiener schnitzel.
Goal: achieved.
Here's a roundup of the schnitzels we had in Vienna…
Cafe Mozart
Our first meal in Vienna was at this cafe just around the corner from our hotel, where we sat outside to enjoy the gorgeous sunny weather.  I had goulash and D had schnitzel, perfectly thin and nearly as big as the plate.  Here, it was served with some sweet-tart lingonberry sauce and the requisite German-style potato salad.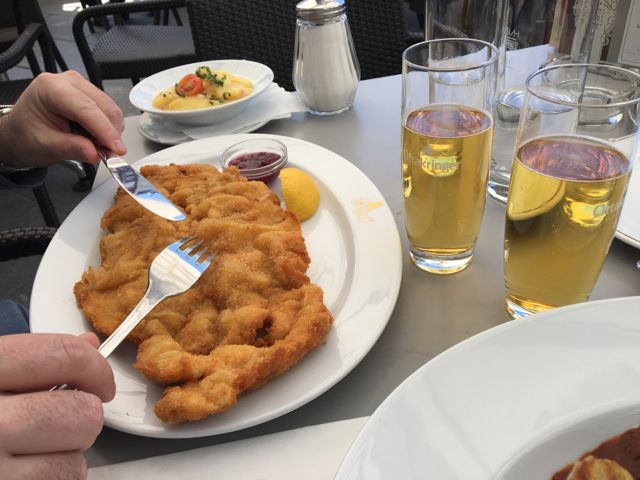 I tried some of his and discovered that schnitzel in Vienna is a world away from what I've had in the US – tender meat with a thin, crisp, wrinkled coating that almost melts in the mouth.
Cafe Sacher
Later that same day, we stopped in here for a light dinner.  D stuck with the traditional schnitzel (here served with lemon only), while I went for the (slightly!) lighter option of a salad with two small pieces of wiener schnitzel and two of chicken (backhendl).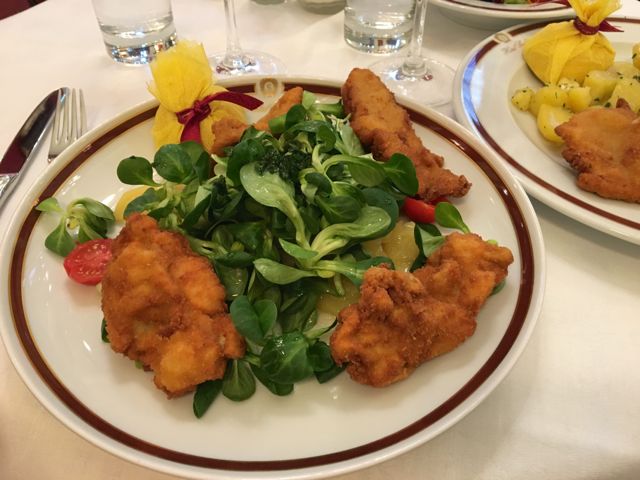 I preferred the veal over the chicken, though both were good – and so was the nicely-dressed mache.  Perfect with a glass of Zwiegelt!
Huth Gastwirtschaft
This spot was recommended by a Viennese colleague, so we popped over for a pre-theater dinner.  We both got the schnitzel – two big pieces each, with the crisp coating bubbled almost entirely off the meat, served with a cranberry sauce and potatoes with mache salad.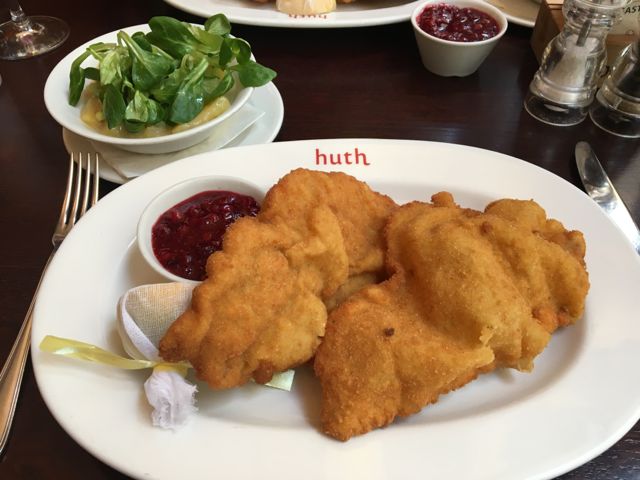 We heard continuous pounding from the kitchen – a sound I became used to hearing all around Austria, as countless schnitzels are prepared.
Wiener Wiazhaus
We came here for our last dinner in Vienna – the front desk manager at our hotel recommended it as it was just around the corner.  It's a crowded, casual spot with funky decor; we were lucky to snag the last table upon walking in around 830pm.  I spent a while decoding the German menu, with little help from my Google translate app, which came up with things like "Barley cordon bleu with courage" (it turned out there were English menus as well, oops).  I finally decided on a wild garlic dumpling/pasta dish that was quite good.
D had – you guessed it – schnitzel!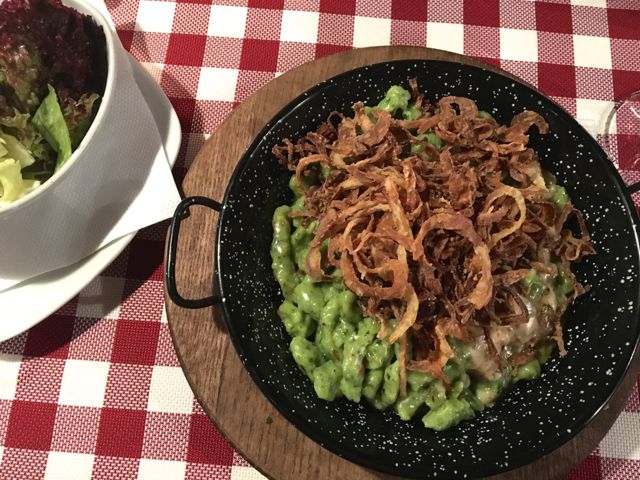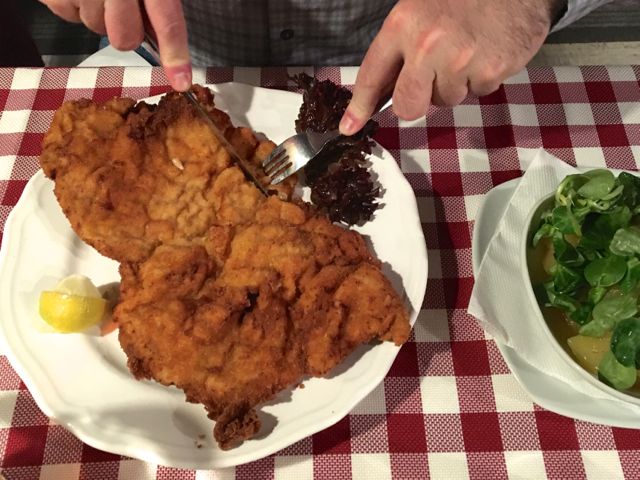 ***
Much more to come from our trip around Austria and to Bordeaux…