After our wonderful rainy day lunch at Hibernia during our last trip, D and I agreed that in the event of rain, we would definitely return there. To be honest, I was kind of looking forward to a dreary wet day, just so we could drive across the island for a relaxing lunch.


It never really rained – but we couldn't miss Hibernia. And the good news is that it's just as nice – and even prettier – on a sunny day.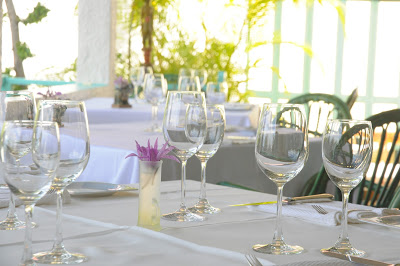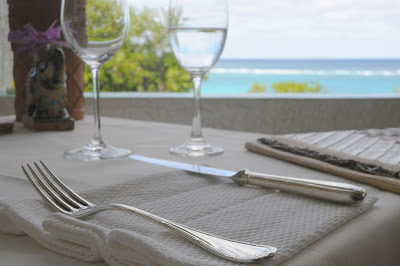 We made a lunch out of a selection of starters, which I always enjoy – you get more variety and lots of flavors, without filling up.


I started with soba noodles served with tofu, raw conch, and lobster powder. It was light, cool, and refreshing – I especially liked the conch – though the noodles weren't the buckwheat soba I was expecting.


D had the "assiette Japonaise" (all the dishes at Hibernia are presented in French on the menu), a selection of sashimi, wakame seaweed, and a unique "eggplant omelet", a tasty roll-up of eggplant, egg, and nori.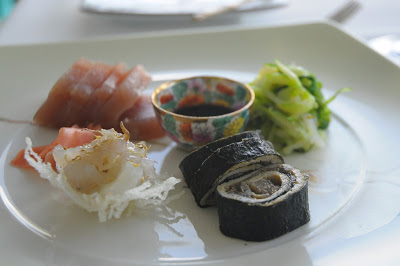 He also had the fish soup, served with croutons, Gruyere cheese, and chili oil.
And I chose with the house-smoked fish plate ("assiette de poissons fumés par nos soins"), three varieties of thinly sliced fish with a garnish of lime wedges, horseradish cream cheese, and a dollop of caviar.
The fish was just lightly smoked, with a delicate texture – really good.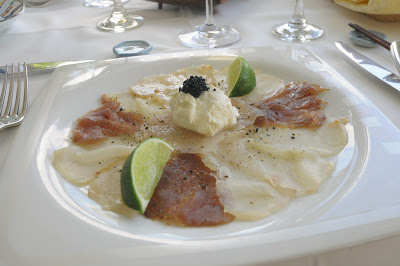 Mary Pat and Raoul recently purchased much of the Maillouhana Hotel's wine collection, expanding the Hibernia list considerably. I spent a while reading through it (there's no better setting for a good wine browse tour than an ocean-view porch!) before settling on a 2003 Hermitage.


It was dark gold in the glass, faintly nutty, perhaps a little past its prime – but lovely to sip on an indolent afternoon.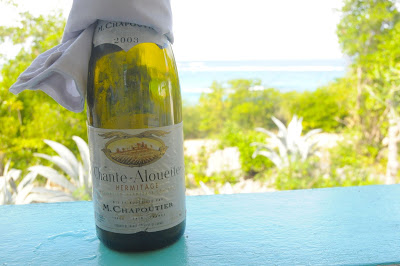 The other fun part of a visit to Hibernia is poking through the little gallery, stocked with all sorts of jewelry and art and curios from Mary Pat and Raoul's travels through Southeast Asia.
So between courses, I went to try on heavy silver necklaces while perusing antique pens and carved jade figurines. And I found a perpetual calendar from Laos, made of buffalo bone tiles that remind me of the mah jong tiles we used to play with, with month and day of the week written in French.
Now it sits on my coffee table in Chicago, generally a few days behind (oh well), a souvenir of a warm afternoon in Anguilla.